"Disrupt or be disrupted." This is the mantra Norwegian Air's CCO Thomas Ramdahl repeated several times when talking about his company's latest endeavor, launching service between the United States and the French West Indies starting this December. The new service will connect Martinique and Guadeloupe to three US airports, New York-JFK, Baltimore-BWI and Boston. Ramdahl also insists that the move is purely focused on fleet utilization and trying to derive revenue from the fleet which typically sees many fewer flights during the winter compared to peak summer season.
It is trying to get more utilization of the aircraft during the winter. Usually we put down 15-20 aircraft due to lower demand. We fly much more down to the Canary Islands but now having more and more aircraft coming in we need to have more utilization so why not try the Caribbean into the United States?
The three 737-800 aircraft will be based in the islands, along with a full complement of pilots, cabin crew and mechanics, to offer the service with the redundancy and reliability necessary while operating so far from the carrier's normal operation bases. Ramdahl also noted that the planes being dispatched to the Caribbean will be some of the newest deliveries from Boeing, fitted with the modern Sky Interior option providing a better passenger experience, including larger overhead bins and mood lighting. Beyond that the in-flight experience will the typical Norwegian Air 737 trip, including free wifi from Row44, streaming media for IFE and buy-on-board fresh food snacks.
We will do the same as we have in Europe, provide food [for purchase] on board. More fresh, we will probably have salads and sandwiches instead of pizza and chips, more European style.
The target market for these routes is decidedly leisure and VFR; Ramdahl recognizes that the business demand in that area is low. And he understands that the target audience will need some education on the appeal of the new markets. And the company certainly hopes that education works. Ramdahl also noted that, while the initial plan is a 4 month seasonal operation, "If this is a success the 4 months can be even longer."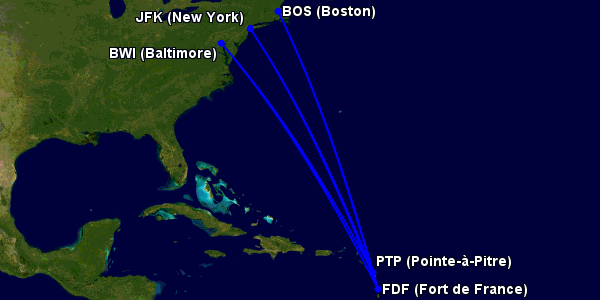 It is also interesting to note that the new routes bring Norwegian into the lead for the number of different destinations served by a foreign carrier out of JFK with 7. Ramdahl suggested that the additional routes could allow European customers to create a multi-stop journey, including a visit to New York and also the islands as part of a vacation. With the expectation that only about 20% of the traffic on these routes will originate in the islands getting that additional feed would be a significant boon for the operation.