A couple of years ago I produced a list of all the Transatlantic routes by alliance to help with searching for award trips and generally to enable those seeking to find new ways to get across the ocean. The data, unsurprisingly, became stale and things have changed like US Airways merging with American Airlines and shifting from Star Alliance to oneworld. And so, with the prodding of a few readers, I've updated the lists. And, based on feedback last time around, I'm also including routes crossing between South America and Europe and reaching a bit further east as well. I'm still ignoring Africa for these results, though.
Here is the latest collection of oneworld Transatlantic routes, gathered from timetables, published route maps and other sources. There are almost 150 carrier/route options and minimal overlap between carriers. That's a significant increase from the last time around, almost entirely related to US Airways now being part of American Airlines. I'm pretty sure it is accurate though I'm guessing I missed one or three in there somewhere.
American Airlines (& US Airways)
The legacy AA coverage into Europe is pretty weak unless you're headed to London. Adding US Airways into the mix brings about a number of new destinations available, mostly from Philadelphia. Similar to Newark's domination of United's transatlantic capacity, Philadelphia now represents more than a third of the 50ish routes available on American. And there are still the Boston-Paris and Raleigh-London routes, holding on as the only non-hub long-haul flights in the system.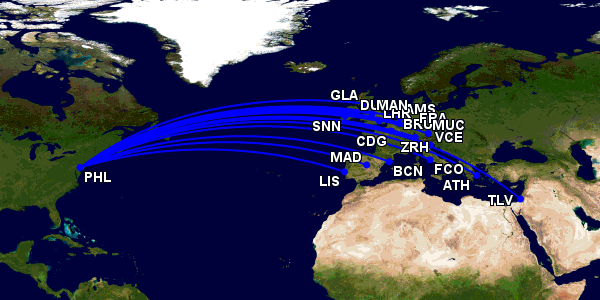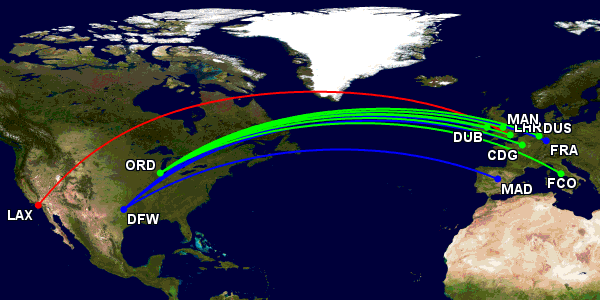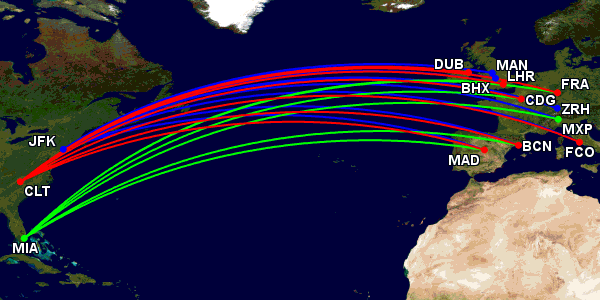 British Airways
British Airways continues to split long-haul operations between Heathrow and Gatwick; the former runs more business routes while the latter is leisure/beach destinations. Plus, of course, the A318 between JFK and London City.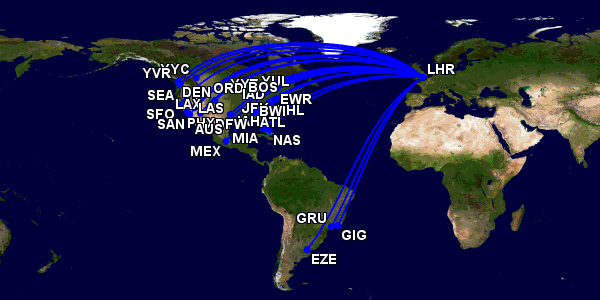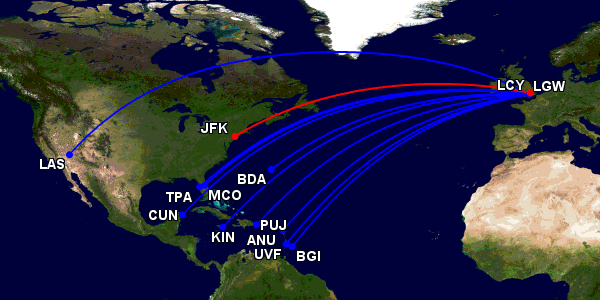 Air Berlin
With its three-hub TATL approach Air Berlin's route map looks a tiny bit like Lufthansa's, just at a smaller scale. Fewer than half the routes and many are non-daily and/or service to beach destinations, but the lines are there.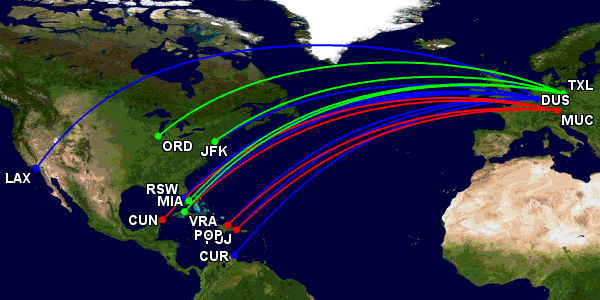 Finnair
Finnair's location in Europe offers great connections to Asia; convenience to North America is less special. Just a handful of routes on offer.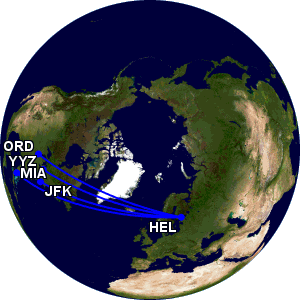 The other half of IAG's long-haul operation, Iberia offers up a number of Central and South America options, plus a few into North America.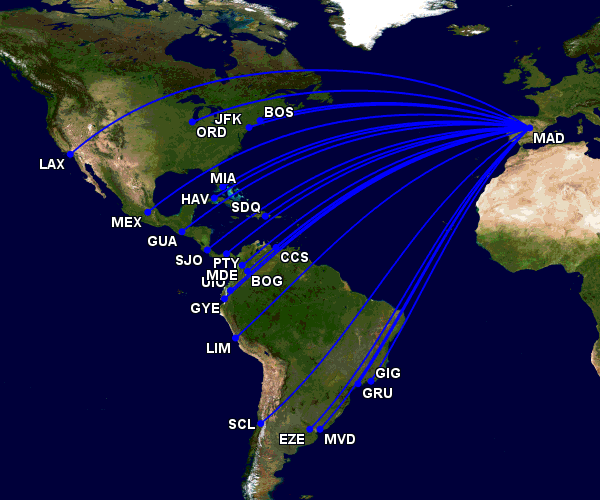 Royal Jordanian
Expanding a bit east in the coverage map adds Royal Jordanian in as a viable candidate. Only four routes but they offer some solid onward connections.
LATAM
The LAN/TAM conglomerate offers up a number of transatlantic routes, though fewer than I initially expected. For LAN it is all about serving Madrid. TAM has a bit more variety.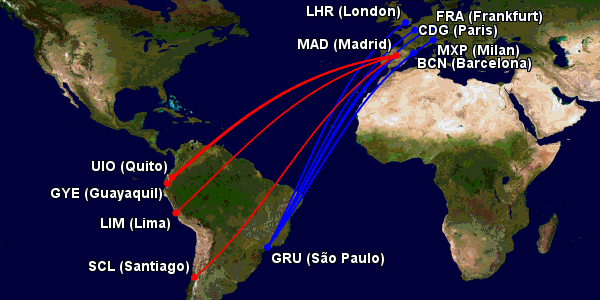 Oneworld offers more gateways in the Americas than Star Alliance but fewer in Europe. and roughly 20-25% fewer routes overall. Still, it is much better than a couple years ago thanks to the US Airways integration.
The full set:
| | | |
| --- | --- | --- |
| BOS | CDG | AA |
| CLT | DUB | AA |
| CLT | CDG | AA |
| CLT | FCO | AA |
| CLT | FRA | AA |
| CLT | BCN | AA |
| CLT | LHR | AA |
| CLT | MAD | AA |
| DFW | MAD | AA |
| DFW | LHR | AA |
| DFW | FRA | AA |
| DFW | CDG | AA |
| JFK | ZRH | AA |
| JFK | MXP | AA |
| JFK | MAN | AA |
| JFK | MAD | AA |
| JFK | LHR | AA |
| JFK | FCO | AA |
| JFK | DUB | AA |
| JFK | CDG | AA |
| JFK | BHX | AA |
| JFK | BCN | AA |
| LAX | LHR | AA |
| MIA | MXP | AA |
| MIA | MAD | AA |
| MIA | LHR | AA |
| MIA | FRA | AA |
| MIA | CDG | AA |
| MIA | BCN | AA |
| ORD | MAN | AA |
| ORD | LHR | AA |
| ORD | FCO | AA |
| ORD | DUS | AA |
| ORD | DUB | AA |
| ORD | CDG | AA |
| PHL | AMS | AA |
| PHL | ATH | AA |
| PHL | BCN | AA |
| PHL | BRU | AA |
| PHL | CDG | AA |
| PHL | DUB | AA |
| PHL | FCO | AA |
| PHL | FRA | AA |
| PHL | GLA | AA |
| PHL | LHR | AA |
| PHL | LIS | AA |
| PHL | MAD | AA |
| PHL | MAN | AA |
| PHL | MUC | AA |
| PHL | SNN | AA |
| PHL | VCE | AA |
| PHL | ZRH | AA |
| PHL | TLV | AA |
| RDU | LHR | AA |
| DUS | VRA | AB |
| DUS | RSW | AB |
| DUS | PUJ | AB |
| DUS | POP | AB |
| DUS | MIA | AB |
| DUS | LAX | AB |
| DUS | JFK | AB |
| DUS | CUR | AB |
| DUS | CUN | AB |
| MUC | VRA | AB |
| MUC | PUJ | AB |
| MUC | CUN | AB |
| MUC | POP | AB |
| TXL | VRA | AB |
| TXL | ORD | AB |
| TXL | MIA | AB |
| TXL | JFK | AB |
| HEL | YYZ | AY |
| HEL | MIA | AY |
| HEL | JFK | AY |
| HEL | ORD | AY |
| LCY | JFK | BA |
| LGW | UVF | BA |
| LGW | TPA | BA |
| LGW | MCO | BA |
| LGW | LAS | BA |
| LGW | KIN | BA |
| LGW | CUN | BA |
| LGW | BGI | BA |
| LGW | BDA | BA |
| LGW | ANU | BA |
| LGW | PUJ | BA |
| LHR | YYZ | BA |
| LHR | YYC | BA |
| LHR | YVR | BA |
| LHR | YUL | BA |
| LHR | SFO | BA |
| LHR | SEA | BA |
| LHR | SAN | BA |
| LHR | PHX | BA |
| LHR | PHL | BA |
| LHR | ORD | BA |
| LHR | NAS | BA |
| LHR | MIA | BA |
| LHR | MEX | BA |
| LHR | LAX | BA |
| LHR | LAS | BA |
| LHR | JFK | BA |
| LHR | IAH | BA |
| LHR | IAD | BA |
| LHR | EWR | BA |
| LHR | DFW | BA |
| LHR | DEN | BA |
| LHR | BWI | BA |
| LHR | BOS | BA |
| LHR | ATL | BA |
| LHR | AUS | BA |
| LHR | GIG | BA |
| LHR | GRU | BA |
| LHR | EZE | BA |
| MAD | SJO | IB |
| MAD | SDQ | IB |
| MAD | PTY | IB |
| MAD | ORD | IB |
| MAD | MIA | IB |
| MAD | MEX | IB |
| MAD | LAX | IB |
| MAD | JFK | IB |
| MAD | HAV | IB |
| MAD | GUA | IB |
| MAD | BOS | IB |
| MAD | UIO | IB |
| MAD | SCL | IB |
| MAD | EZE | IB |
| MAD | MVD | IB |
| MAD | LIM | IB |
| MAD | SAL | IB |
| MAD | CLO | IB |
| MAD | GRU | IB |
| MAD | GYE | IB |
| MAD | GIG | IB |
| MAD | MDE | IB |
| MAD | BOG | IB |
| MAD | CCS | IB |
| GRU | MAD | JJ |
| GRU | FRA | JJ |
| GRU | MXP | JJ |
| GRU | LHR | JJ |
| GRU | CDG | JJ |
| GRU | BCN | JJ |
| GYE | MAD | LA |
| LIM | MAD | LA |
| SCL | MAD | LA |
| UIO | MAD | LA |
| AMM | ORD | RJ |
| AMM | YUL | RJ |
| AMM | JFK | RJ |
| AMM | DTW | RJ |