A couple of years ago I produced a list of all the Transatlantic routes by alliance to help with searching for award trips and generally to enable those seeking to find new ways to get across the ocean. The data, unsurprisingly, became stale and things have changed like US Airways merging with American Airlines and shifting from Star Alliance to oneworld. And so, with the prodding of a few readers, I've updated the lists. And, based on feedback last time around, I'm also including routes crossing between South America and Europe and reaching a bit further east as well. I'm still ignoring Africa for these results, though.
Here is the latest collection of Star Alliance Transatlantic routes, gathered from timetables, published route maps and other sources. I'm pretty sure it is accurate though I'm guessing I missed one or three in there somewhere.
Air Canada sits comfortably in 3rd place amongst Star Alliance carriers in terms of total routes across the Atlantic. But things get a bit interesting when looking more closely because that number includes the Rouge routes. These are seasonal or non-daily and on a different aircraft configuration which is designed to compete in leisure markets more than to attract business travelers. Still, when looking to get across the ocean, there are a lot of options.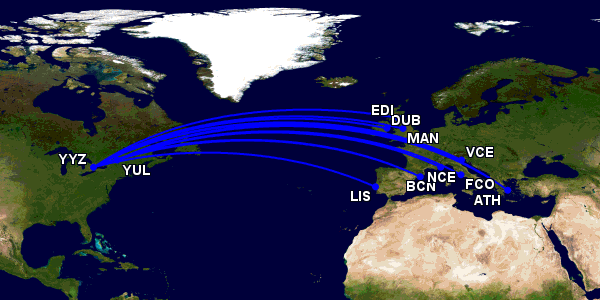 Avianca
Avianca offers a few routes between its Colombian base and Europe.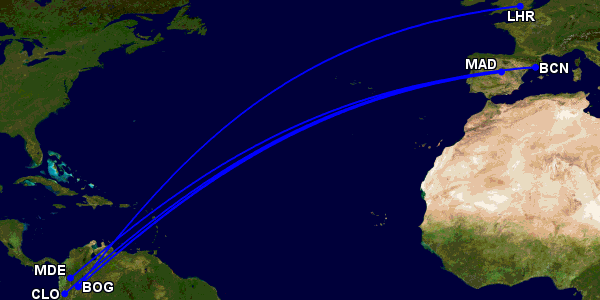 Lufthansa is in second place in the alliance for total routes, including service from three hubs in Germany. Dusseldorf has seen a couple cuts but still offers service on key routes while Frankfurt is the main gateway and Munich sees a bit as well.
Rest of the Miles + More Carriers
Swiss, Austrian, Brussels Airlines and LOT Polish have a solid collection of flights from their hubs in Europe, though overall it is still a relatively low number of routes flown.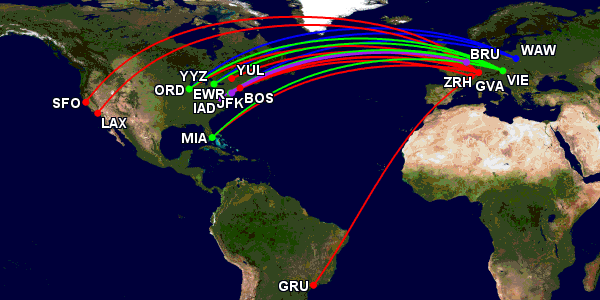 The 5th Freedom Flights
Air New Zealand, Ethiopian, Air China and Singapore Airlines each offer Transatlantic routes under 5th Freedom authority.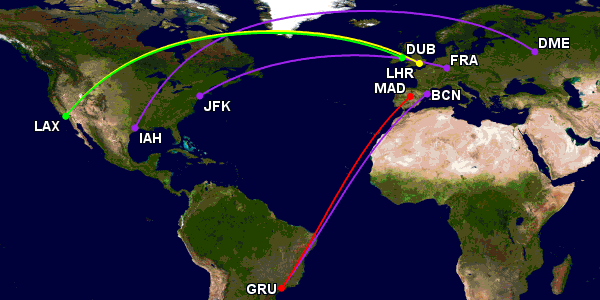 SAS
SAS coverage into the Americas is not especially strong, but it is larger than a couple years ago.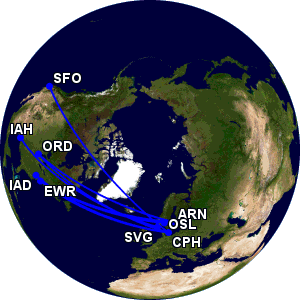 Turkish Airlines
Turkish is, by far, the biggest growth point for Transatlantic service in Star Alliance. Lots of new routes operating these days.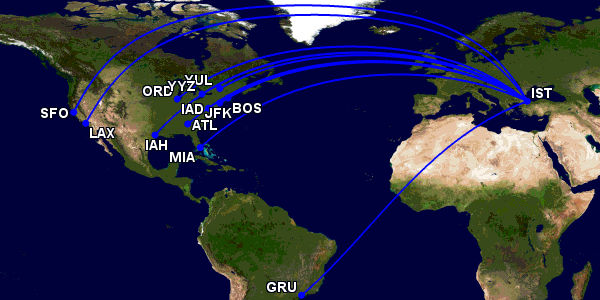 TAP Air Portugal
TAP truly shines when it comes to service in South America thanks to many flights to Brazil. Plus a few into North America, too.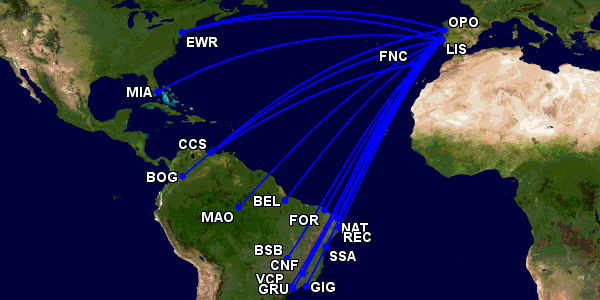 And, rounding out the alliance, United Airlines has nearly 60 transatlantic routes, though some are seasonal. Newark is the main gateway; O'Hare and Dulles combined have fewer routes than are served non-stop from Newark. And Houston, San Francisco and Los Angeles combined serve fewer than either Dulles or O'Hare.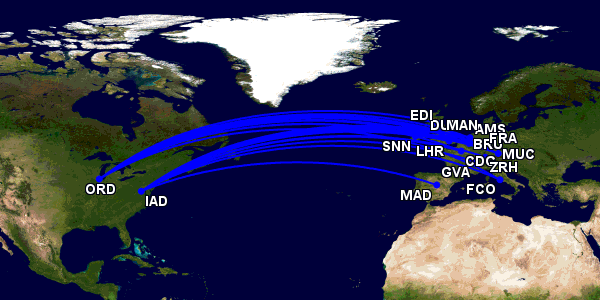 Here's the full list in table format:
| | | |
| --- | --- | --- |
| YEG | LHR | AC |
| YHZ | LHR | AC |
| YOW | FRA | AC |
| YOW | LHR | AC |
| YUL | BRU | AC |
| YUL | CDG | AC |
| YUL | FRA | AC |
| YUL | GVA | AC |
| YUL | LHR | AC |
| YVR | LHR | AC |
| YYC | FRA | AC |
| YYC | LHR | AC |
| YYT | LHR | AC |
| YYZ | AMS | AC |
| YYZ | CDG | AC |
| YYZ | CPH | AC |
| YYZ | EDI | AC |
| YYZ | FCO | AC |
| YYZ | FRA | AC |
| YYZ | IST | AC |
| YYZ | LHR | AC |
| YYZ | MAD | AC |
| YYZ | MUC | AC |
| YYZ | MXP | AC |
| YYZ | TLV | AC |
| YYZ | ZRH | AC |
| YUL | ATH | AC* |
| YUL | BCN | AC* |
| YUL | FCO | AC* |
| YUL | NCE | AC* |
| YUL | VCE | AC* |
| YYZ | ATH | AC* |
| YYZ | BCN | AC* |
| YYZ | DUB | AC* |
| YYZ | EDI | AC* |
| YYZ | LIS | AC* |
| YYZ | MAN | AC* |
| YYZ | VCE | AC* |
| BOG | BCN | AV |
| BOG | LHR | AV |
| BOG | MAD | AV |
| CLO | MAD | AV |
| MDE | MAD | AV |
| MAD | GRU | CA |
| DUB | LAX | ET |
| DUS | EWR | LH |
| DUS | ORD | LH |
| FRA | ATL | LH |
| FRA | BOG | LH |
| FRA | BOS | LH |
| FRA | CCS | LH |
| FRA | CUN | LH |
| FRA | DEN | LH |
| FRA | DFW | LH |
| FRA | DTW | LH |
| FRA | EWR | LH |
| FRA | EZE | LH |
| FRA | GIG | LH |
| FRA | GRU | LH |
| FRA | IAD | LH |
| FRA | IAH | LH |
| FRA | JFK | LH |
| FRA | LAX | LH |
| FRA | MCO | LH |
| FRA | MEX | LH |
| FRA | MIA | LH |
| FRA | ORD | LH |
| FRA | PHL | LH |
| FRA | PTY | LH |
| FRA | SEA | LH |
| FRA | SFO | LH |
| FRA | TPA | LH |
| FRA | YUL | LH |
| FRA | YVR | LH |
| FRA | YYZ | LH |
| MUC | BOS | LH |
| MUC | CLT | LH |
| MUC | EWR | LH |
| MUC | GRU | LH |
| MUC | IAD | LH |
| MUC | JFK | LH |
| MUC | LAX | LH |
| MUC | MCO | LH |
| MUC | MEX | LH |
| MUC | ORD | LH |
| MUC | SFO | LH |
| MUC | YUL | LH |
| MUC | YVR | LH |
| MUC | YYZ | LH |
| WAW | ORD | LO |
| WAW | JFK | LO |
| WAW | YYZ | LO |
| GVA | JFK | LX |
| ZRH | BOS | LX |
| ZRH | EWR | LX |
| ZRH | GRU | LX |
| ZRH | JFK | LX |
| ZRH | LAX | LX |
| ZRH | MIA | LX |
| ZRH | ORD | LX |
| ZRH | SFO | LX |
| ZRH | YUL | LX |
| LHR | LAX | NZ |
| VIE | EWR | OS |
| VIE | IAD | OS |
| VIE | JFK | OS |
| VIE | MIA | OS |
| VIE | ORD | OS |
| VIE | YYZ | OS |
| ARN | EWR | SK |
| ARN | ORD | SK |
| CPH | EWR | SK |
| CPH | IAD | SK |
| CPH | ORD | SK |
| CPH | SFO | SK |
| OSL | EWR | SK |
| SVG | IAH | SK |
| BRU | IAD | SN |
| BRU | JFK | SN |
| BCN | GRU | SQ |
| DME | IAH | SQ |
| FRA | JFK | SQ |
| IST | ATL | TK |
| IST | BOS | TK |
| IST | GRU | TK |
| IST | IAD | TK |
| IST | IAH | TK |
| IST | JFK | TK |
| IST | LAX | TK |
| IST | MIA | TK |
| IST | ORD | TK |
| IST | SFO | TK |
| IST | YUL | TK |
| IST | YYZ | TK |
| FNC | CCS | TP |
| LIS | BEL | TP |
| LIS | BOG | TP |
| LIS | BSB | TP |
| LIS | CCS | TP |
| LIS | CNF | TP |
| LIS | EWR | TP |
| LIS | FOR | TP |
| LIS | MAO | TP |
| LIS | MIA | TP |
| LIS | NAT | TP |
| LIS | REC | TP |
| LIS | SSA | TP |
| LIS | VCP | TP |
| OPO | CCS | TP |
| OPO | EWR | TP |
| OPO | GIG | TP |
| OPO | GRU | TP |
| EWR | AMS | UA |
| EWR | ARN | UA |
| EWR | BCN | UA |
| EWR | BFS | UA |
| EWR | BHX | UA |
| EWR | BRU | UA |
| EWR | CDG | UA |
| EWR | DUB | UA |
| EWR | EDI | UA |
| EWR | FCO | UA |
| EWR | FRA | UA |
| EWR | GLA | UA |
| EWR | GVA | UA |
| EWR | HAM | UA |
| EWR | LHR | UA |
| EWR | LIS | UA |
| EWR | MAD | UA |
| EWR | MAN | UA |
| EWR | MUC | UA |
| EWR | MXP | UA |
| EWR | NCL | UA |
| EWR | OSL | UA |
| EWR | SNN | UA |
| EWR | TLV | UA |
| EWR | TXL | UA |
| EWR | VCE | UA |
| EWR | ZRH | UA |
| IAD | AMS | UA |
| IAD | BRU | UA |
| IAD | CDG | UA |
| IAD | DUB | UA |
| IAD | FCO | UA |
| IAD | FRA | UA |
| IAD | GVA | UA |
| IAD | LHR | UA |
| IAD | MAD | UA |
| IAD | MAN | UA |
| IAD | MUC | UA |
| IAD | ZRH | UA |
| IAH | AMS | UA |
| IAH | FRA | UA |
| IAH | LHR | UA |
| IAH | MUC | UA |
| LAX | LHR | UA |
| ORD | AMS | UA |
| ORD | BRU | UA |
| ORD | CDG | UA |
| ORD | DUB | UA |
| ORD | EDI | UA |
| ORD | FCO | UA |
| ORD | FRA | UA |
| ORD | LHR | UA |
| ORD | MUC | UA |
| ORD | SNN | UA |
| SFO | CDG | UA |
| SFO | FRA | UA |
| SFO | LHR | UA |
AC* = Rouge