The time has come once again to look back on my year in travel and reflect on both the good and bad bits. Fortunately, like most years, I think that the good won handily over the bad.
The basic numbers are pretty easy: I flew 106 segments covering just over 185,000 miles. Fifty of the flights were on routes new to me, mostly maintaining my pace on that front. I visited 25 countries (a couple had multiple visits), seven of which were new to me. And I visited 59 different airports, 20 of which were new to me. All of that was spectacular. five or so of the flights – including a couple intercontinental jaunts – were in a middle seat. That was less spectacular. Just over 85,000 miles were in economy class while the other 100,000 varied between premium cabins. Two different air shows – Paris and Dubai – were also firsts for me and a combination of fun and amazing with terrible and disorganized.
There were also a number of "special" flights on this year's roster. Things like a flight to nowhere with KLM, circling over the Dutch countryside on the carrier's brand new 787 with a couple hundred other aerophiles before the aircraft entered commercial service. Or the delivery flight of a Qatar Airways 787 from Paine Field to Doha. And American Airlines' first 787 flight from DFW to Chicago. And I would be remiss to ignore the flight to and from Gary, Indiana with Gogo where I recorded a video segment while in the air. Those were a ton of fun.
There were other inaugural flights as well, including the first Norwegian flights from New York to Martinique and from Guadeloupe to Boston. Air New Zealand inaugurated service from Auckland to Houston and I was fortunate to be invited on board that trip as well.
I explored smaller airports and airlines, flying on Winair, Air Caraibes and Air Antilles in the French Caribbean and Aerogaviota in Cuba. Each a unique experience and far different from the typical flying in the USA or even most other international flights.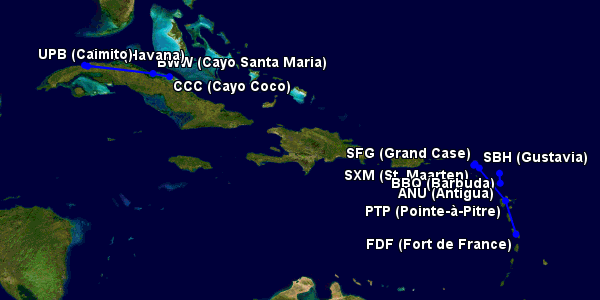 Only two new aircraft type, but both were spectacularly special: The Cubana IL-96 from Havana to Paris was a bizarre and incredible experience in so many ways.
And the Grumman Albatross over Portland was a ton of fun.
And perhaps the best part was getting to meet up with old friends in Dubai, Christchurch and Chiang Mai, among other places. The ability to travel half way around the world and drop in to a local pub or restaurant with a local and catch up is something of a miracle to me and an experience I do my best to not take for granted.
I still consider it amazing that I can walk into a giant tube, close my eyes for a bit and then wake up somewhere else. Maybe just a couple dozen miles away or maybe thousands. But it is amazing. And I love every minute of it. Maybe one day it will become routine, banal or simply boring. But I sure hope not.