US and Mexican regulators agreed on a nearly Open Skies arrangement last week setting up the framework for many routes to see increased frequencies and competition in the transborder market. The deal stops short of a true open skies arrangement with respect to onward traffic rights but does allow for joint ventures and other, similar coordination amongst carriers. It is pretty much everything the industry has been expecting. Approval of the deal by the Mexican Senate is still required but that is also expected to happen without issue.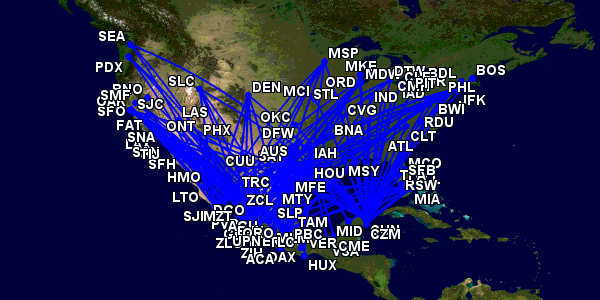 This is great news for Delta and Aeromexico. The former is moving to become a significant owner of the latter (as much as a 49% stake) and hoping to implement joint venture operations with antitrust immunity, allowing for the coordination of fares, schedules and connecting traffic. Both American and United have more transborder service today than either Delta or Aeromexico; the combined JV pair would take the leading spot in those rankings. It also allows for smoother passenger flow between the SkyTeam partners.
Reading these bilateral agreements also opens up a bit of a history lesson which can be entertaining. The most recent deal includes text from prior agreements for service authorities from and through specific cities. Things like 5th freedom routes still are well defined and they are interesting. For example, US-based airlines can carry passengers:
From Dallas/Fort Worth and San Antonio to Mexico City, Toluca, and Acapulco, and beyond to points in Panama and beyond; or,

From New York, Washington, Baltimore, Los Angeles, and Houston to Mexico City and Toluca, and beyond to a point or points in Central and/or South America.
Similarly, Mexico-based airlines can carry passengers:
From Acapulco, Hermosillo, Mexico City, Toluca, Monterrey, Oaxaca, Puerto Escondido, Tampico, Veracruz, Villahermosa, and Ixtapa/Zihuatanejo to Chicago, Kansas City, Minneapolis/St. Paul, and St. Louis, and beyond to Canada; or,

From Acapulco, Guadalajara, Huatulco, Loreto, Manzanillo, Mazatlan, Mexico City, Toluca, Monterrey, Puerto Vallarta, San Jose del Cabo, and Ixtapa/Zihuatanejo to Boston and New York, and beyond to Europe; or,

From Cancun, Cozumel, Guadalajara, Merida, Mexico City, Toluca, and Monterrey to Houston and New Orleans, and beyond to Canada and Europe.
Almost none of these routes would be viable today but in a prior era they were certainly part of the global air traffic flows. And apparently neither side sees any reason to clear them from the books quite yet.