The Haneda slot applications are in and, not surprisingly, there is contention over the six slots available to serve the Tokyo airport from the United States. In a slightly surprising move the DoT is requiring all carriers to apply anew for service, even to keep the routes they already have, and there are nine desired routes for the six available slots. Only five of the slots are available for daytime operations but all nine routes are seeking daytime operation. A few airlines are going to find themselves disappointed.
Each of the four existing routes – Honolulu on Hawaiian, San Francisco on United, Los Angeles on American and Delta – is back in the application pool; no real surprise there. And each of the four airlines is also seeking additional service. American wants to fly from its hub in DFW, United from Newark and Hawaiian wants to split frequencies between Honolulu and Kona for its second slot. Delta wants two additional slots, one for Minneapolis and the other for Atlanta. Also worth noting is that Hawaiian has listed as a third preference in its application a willingness to take the HNL/KOA flight in the night slot if that's the only way to get the additional service.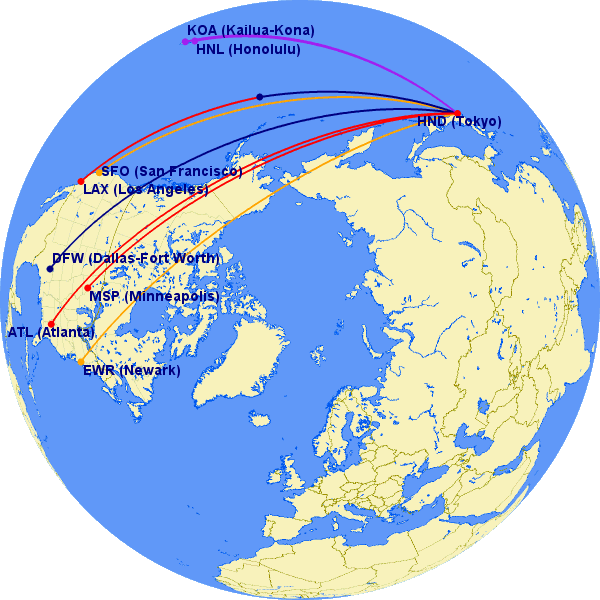 As the only application explicitly willing to take a night slot Hawaiian might earn that second frequency, something it believes it has earned with a note on today's earnings call that 40% of traffic between Haneda and the USA goes to Hawaii. Of course, some of that is because the other routes have been limited with night operations so it is unclear that the numbers would remain that way moving forward.
If we assume the four existing allocations are kept and converted to daytime then my bet would be on United winning with Newark for the fifth daytime slot – hard to argue a ton with connecting the NYC area with Japan – and Hawaiian gets the night slot for its split service. If the initial four are not all preserved it seems unlikely to me that the DoT would approve multiple carriers operating on the LAX route. Minneapolis seems a weak choice as a secondary hub for Delta while Atlanta has a strong position with the massive connecting flow the carrier can push.
UPDATE (10:20p 16 APR): Turns out DL put MSP as its second priority after LAX and above ATL. Could be a move to try to ensure that LAX sticks around but the prioritization of MSP over ATL makes zero sense to me from a passenger flow perspective. 
Perhaps AA keeps LAX and Delta gets ATL instead of its existing LAX service. In the same way an AA swap of LAX for DFW could make sense, though the move to add that service goes against the company's previously stated desire to expand transpacific capacity from Los Angeles.
It also appears that Delta has relaxed its initial position of demanding all the Haneda slots so as to move its Narita hub operation wholesale into the new operation. This is not particularly surprising as that was never really going to happen, but it is nice to see that the application is measured.
I would be very surprised in Newark doesn't win one of the slots. Nonstop service from New York City seems a very compelling argument and United can connect a decent amount of east coast traffic as it does with the current Narita flight time. JFK was one of the original slot awards when Haneda first opened but American eventually dropped the route due to weakness attributed to the flight times. And despite both Delta and American having a strong hub presence at JFK neither of them went for the Haneda slot there.