Most people attending an event in Shanghai would plan the trip by booking a return ticket from home to Shanghai and back. It is simple, logical and solves the problem presented. But I'm not most people; far from it in fact. So instead of a simple round-trip ticket for my trip in December I'm now up to four separate bookings to make the journey. And I still need one more.
Booking #1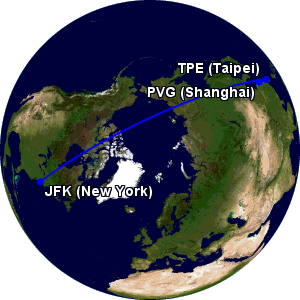 Before committing to attend I needed to make sure I could get to Shanghai on time. There were plenty of reasonably priced tickets but I also was looking forward to trying something new and maybe even flying in business class for the long journey so I focused on award points instead. Eventually I settled on a MileagePlus award for flights on EVA airways, including a 22:30 connection in Taipei so I can explore some of the city's nightlife.
Booking #2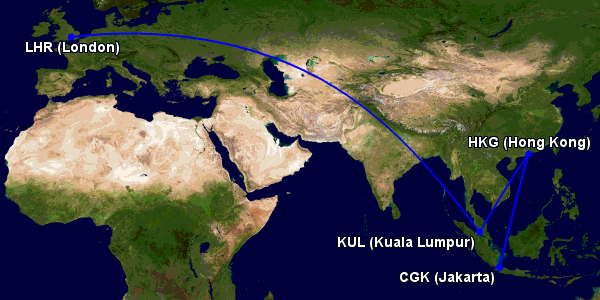 A couple weeks after making the first booking I received word of a deal on RTW tickets out of Indonesia. Given that I had no return ticket planned from China yet this was a great opportunity. I booked my RTW travel starting in Indonesia with the first stop in London, getting me nearly all the way home but leaving the RTW open for additional adventures in 2017. Ultimately I'll use that same ticket for a trip home from Paris in June 2017, via South Africa and Chile.
Booking #3
It turns out I live in New York City, not London. So I need a one-way ticket home from there at the break in my RTW. But I also need to get back to London in February for a different conference. With return tickets hovering around $525 right now that's a pretty easy decision to make. And I'll figure out a way home from the February trip eventually, I suppose.
Added bonus: I'm booking it with an overnight in London between this and my arrival from Asia so I get to see some friends for dinner and debauchery
Booking #4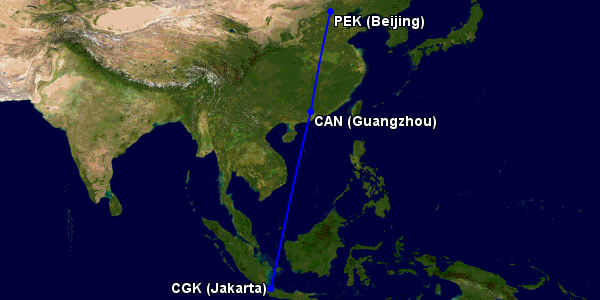 Today I finally decided to figure out how to get from China to Indonesia. Revenue tickets on LCCs were reasonably priced but horribly timed. Well-timed cash bookings were pricey. But award options on SkyTeam and Star Alliance were reasonable. Eventually I settled on an itinerary including the China Southern A380 for a domestic hop because I think that will be fun. And I chose the Garuda onward connection because it is better timed and lets me experience a new carrier. Both FlyingBlue and SkyMiles showed the same award inventory but at different prices. I chose SkyMiles, paying a few extra points to save $45 in taxes.
Booking #5
My flight is in to Shanghai and out of Beijing. I still need to book that segment. But I want to do it on the high speed train and that only opens for booking 60 days in advance; I need to wait a week or so for that to open up.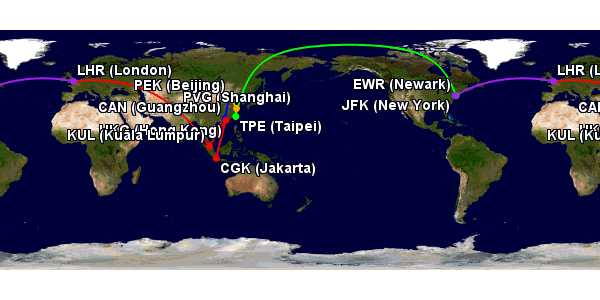 So, yeah, my thought process when it comes to this sort of thing is far from normal. But somehow I seem to keep putting it all together in a way that makes sense to me. At least I think it does. Maybe. Of course, I stand zero chance of keeping this all straight in my head. I use TripIt, Traxo and Kayak Trips to track my reservations and make sure I'm actually going to be where I think I should be when I'm supposed to be there. And I've only screwed that up a couple times. Mixing and matching flights across all three major alliances helps make sure I've got options and gets me better schedules and price than loyalty to a single airline or alliance.
Oh, and this is one of two such bookings I've got set to fly this year; another RTW (east-bound, not west-bound) begins later this month with more stops and a similarly ridiculous assembly process.