United is adding daily service between San Francisco and Munich this summer on a 787-8. The route will complement year-round offering from Lufthansa and adds an option for travelers seeking earlier flights in either direction; the Lufthansa times are rather later in the day. And if you're looking for an opportunity to score award seats from the west coast to Europe during the summer then this flight is a great place to start.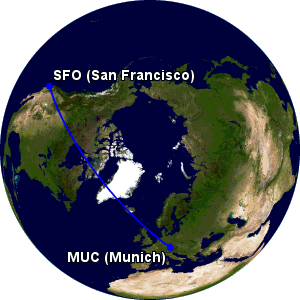 A quick scan of the calendar suggests that most days have economy award seats (X inventory) available. And that's seats plural, not just a single seat. For travelers with elite status or the co-branded credit cards the "extra" inventory award space (XN inventory) is notably more open, often with 7-9 seats available for booking.
If you're in it for business class the news is more mixed. Straight up award bookings are much harder to come by, but if you're willing to pay for an economy class seat and upgrade there are still options available. Tuesday and Wednesday travel in both directions seems to have upgrade space (R inventory) available for multiple seats on nearly every date I checked.
Weekends are, not surprisingly, tighter on the inventory in both cabins.
More surprising to me is that the route is launching at all. US carriers continue to bemoan weakness in yields across the Atlantic Ocean, citing increased competition from LCCs and generally increasing capacity. But none of them seem keen to quit the market or even to really scale back too much. San Francisco in particular is seeing significant TATL growth lately, with Virgin Atlantic adding flights to Manchester, UK this summer and LCC pressures from WOW at SFO and Norwegian across the bay at Oakland. In this case the service is hub-to-hub so should benefit from feed at both ends but that only helps a little bit in filling seats, and even then typically at lower yields. At least the 787-8 being used for the service brings a slightly lower operating cost to help on the overall numbers.