Norwegian is adding flights from Chicago and Austin to its London-Gatwick hub in March 2018, bringing the total number of direct US destinations to eleven. That's still only about half the route options British Airways flies from London to the United States and one short of Virgin Atlantic's spread but make no mistake: Norwegian is going after the the UK markets in a big way. Introductory pricing on the new routes starts at $175 one way from Chicago and $250 from Austin; Premium seats start at $580.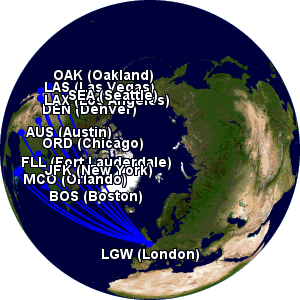 Norwegian has not been shy about its rapid growth in the Transatlantic market. The company continues to take delivery of new aircraft and expansion is the only real option it has. It is also expanding 737-based service in the USA, adding more French Caribbean routes in the winter season and shorter TATL flights to the British Isles this summer.
The new routes are not daily service. Austin and Chicago will essentially split an aircraft, with O'Hare seeing service four days per week and Austin getting the other three. This approach is typical for Norwegian as it focuses on casting a wider footprint versus adding more frequencies to each destination. As markets mature service can be increased (or trimmed, if the market fails to develop) allowing more flexibility to the airline. It also limits the value proposition for some business travelers given the more sparse schedule. Given the higher density cabin configuration and topping out with only Premium Economy on board rather than a flat bed business class it is pretty clear that Norwegian isn't chasing the traditional business class customer anyways. But it definitely is chipping away at the legacy carriers.
British Airways added Austin service just a couple years ago; Norwegian coming in after that suggests the company sees either greater demand or a market that is more price sensitive than BA hoped. Given BA's decision to add more Gatwick service (e.g. JFK-LGW recently joining the map) and to increase density on its 777 fleet to decrease per-seat costs as it competes against Norwegian it is hard to argue that the impact is not being felt. Should Norwegian show up with transatlantic service in the Washington, DC market (likely BWI given the existing presence for Caribbean flights) that would give it a full overlap on Virgin Atlantic destinations.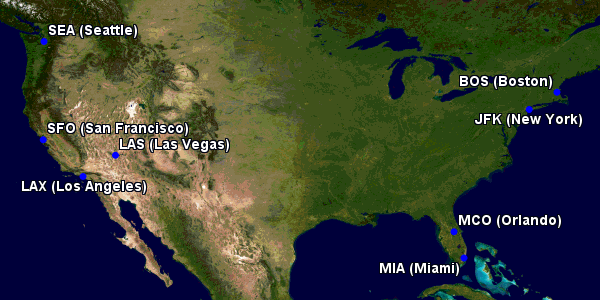 Of course, both Virgin Atlantic and British Airways have joint venture agreements with other airlines to help with connecting flow and feed, something Norwegian lacks today. That said, Norwegian is developing the feed into Continental Europe from Gatwick that can help fill some of these flights.
Norwegian is also adding service from Boston and Oakland to Paris a couple weeks after the new London service begins.