JetBlue is (finally) expanding its service at Atlanta, adding three more destinations and doubling the total number of flights. Starting on 8 March 2018 the carrier will fly from Atlanta to New York's JFK airport, Orlando and Fort Lauderdale, joining the existing service to Boston. Atlanta is the largest market not served from the three JetBlue hub/focus cities.
"We are excited to bring our award-winning service and low fares to even more markets from Atlanta," said Marty St. George, executive vice president commercial and planning, JetBlue. "Customers flying between Boston and Atlanta have shown a strong appetite for a competitive option like JetBlue, and we anticipate we'll see the same for the New York, Fort Lauderdale and Orlando routes."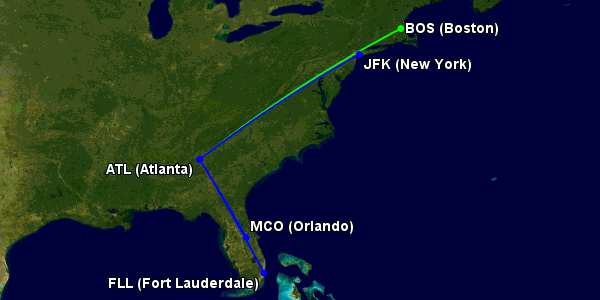 ---
---
These three routes were announced nearly a year ago when the Boston-Atlanta flights were scheduled but specific details about when they would operate remained unclear as the airline faced challenges securing the necessary gate space at ATL. Despite the announcement of the new routes and a launch date for service it does not appear that the gate issues are resolved. It appears that, based on current circumstances, JetBlue is set to operate its complement of flights next spring from three different concourses.
The schedule to Boston is clearly focused on business travelers, with five daily flights. The three new routes are less frequent and timed in a way that is less useful to business travelers. Only the Fort Lauderdale route offers a reasonable same-day trip opportunity from Atlanta. The Fort Lauderdale schedule also works for many of the Caribbean and Latin America routes JetBlue operates from that gateway, though many of those destinations also overlap with Delta's nonstop service from Atlanta.
---
---
JetBlue also took advantage of the new service announcement to poke at Delta Air Lines and its frequent and loud protests over the ME3 service to the United States. The NYC-based carrier called attention to its many interline and codeshare partners, including all of the ME3, in the release:
JetBlue has also built a rich portfolio of interline and codeshare agreements with dozens of other airlines at JFK that help connect customers to cities around the world. Travelers can connect to destinations around the world on carriers such as Emirates, El Al, Aer Lingus, Etihad and Qatar.
Atlanta was one of the early failures for JetBlue, a market where it showed up with a massive splash that quickly fizzled out in the face of competition from AirTran and Delta Air Lines. All four markets that JetBlue is pushing this time around are significant Delta operations, plus competition from Southwest (owing to the ATL hub acquired when it bought out AirTran) and Spirit Airlines.