Will the world's longest flights shift to airlines in Australia and New Zealand? Their remote locations mean the two countries often see long trips for travelers. Last week set off a race to see those trips get potentially longer. And faster.
Qantas and Air New Zealand are both keen to extend their reach to the US east coast, Brazil and Europe. That means flight times potentially exceeding 20 hours. On the surface that's great news for travelers seeking to save time – no connections means a quicker trip. But what types of aircraft can meet these route needs, both technically and economically? And how will the airlines keep travelers comfortable that long, especially in coach?
Kiwis Challenge East Coasts
Air New Zealand kicked off the chatter early last week, announcing plans for a fleet renewal effort by 2021. The new order would see eight of the carrier's oldest 777-200ERs retired and could grow beyond that. The company expects to target New York and Brazil with the updated aircraft, though reaching either is a stretch. Neither would supplant Qatar Airways' Doha-Auckland as the current longest route in the world but both push existing aircraft types to their limits.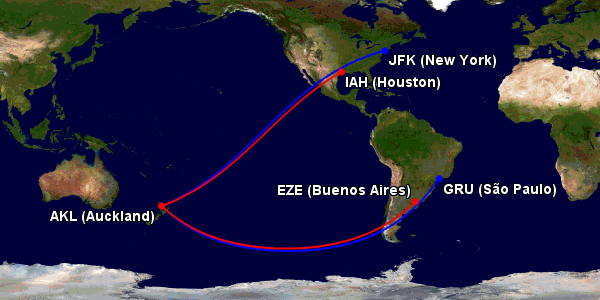 ---
---
Discussion of the NYC route comes as Air New Zealand launches a new global advertising campaign featuring its reputation for on-board service. It wants travelers to see the often long flights to New Zealand as a positive part of the trip rather than burdensome. For many US-based travelers New Zealand is a desired destination; the carrier reports research showing around 27 million Americans are interested in holidaying in New Zealand.
Travel time is a major barrier to drawing those passengers in. That both United and American recently launched service to Auckland only to scale it back seasonally speaks to the challenges in getting passengers to visit, even from the west coast where the total travel time clocks in around 13 hours. At least the jetlag from the time zone offset isn't so bad.
Auckland's location 1,300 miles east of Sydney puts Air New Zealand in a better position to reach Sao Paulo or New York with existing aircraft types; Qantas is not so lucky.
Can Qantas Cover the Continents
Qantas wasted little time in echoing the desire to bring longer flights to the skies. The carrier will launch Perth-London service in 2018 on a 787 Dreamliner but it wants more. Connecting the east coast of Australia – the major cities of Sydney, Brisbane and Melbourne – to Europe and New York City are part of the company's plans.
Today we announced the future of aviation to take Australia further. Are you ready @Boeing and @Airbus? pic.twitter.com/qqQawOs07u

— Qantas (@Qantas) August 24, 2017
Dubbed "Project Sunrise" in honor of the historic operations that saw some trips experience multiple sunrises en route, the goal is greater connectivity with fewer stops. Unlike the Auckland version of this challenge the new Qantas routes will require new aircraft.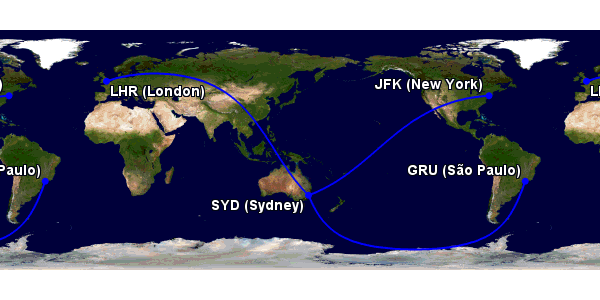 ---
---
Qantas specifically called out the two airframers in its announcement and thus far they appear keen to compete. Demand for such an aircraft configuration will be limited, of course, but Qantas has a history of getting those planes built. Boeing delivered six 747-400ERs to the carrier based on a similar need a (plane) generation ago.
Boeing's willingness to build ULR variants for Qantas is well known. Even in small quantities. 747-400ER was offered with 2 belly aux tanks. pic.twitter.com/tNlIshupQT

— Jon Ostrower (@jonostrower) August 25, 2017
A 747-400 flew London to Sydney as a delivery flight (and publicity stunt) for Qantas nearly 30 years ago. The trip spanned just over 20 hours en route. Getting to commercial service on such a long haul means further upgrades to fuel capacity and other systems on a type that is still being built today, namely the A350 or 777X.
LON-SYD direct: no sweat for @Qantas #B747 @HeathrowAirport Flight #1989: https://t.co/k8jfIAaIjG (and note the plus ca change BA headline!) pic.twitter.com/JMXLPrZdzt

— Max Kingsley-Jones (@MaxK_J) August 25, 2017
---
---
Presumably the aircraft can be built to serve these ultra long haul routes. Airbus previously committed to the A350-900 ULR, adding fuel tanks to allow flights between Singapore and the USA without weight restrictions. A similar config might reasonably serve Sydney-JFK, a routing 400 miles longer. Sydney-London adds another 600 miles on to that, a nominal distance of 10,574 miles en route. That is on the edge of the ULR capabilities before considering routing restrictions, ATC holds and the like.
But just building the aircraft does not mean it will be a success. Convincing passengers to hole up in a tube for 20ish hours may prove the true challenge for these routes. Even in the premium cabins.