It was 40 years ago that Sir Freddie Laker launched low-cost flights across the Atlantic Ocean. The effort eventually flopped but it now seems that perhaps Sir Freddie was just ahead of his time. LCCs are once again expanding across the Atlantic and now reaching deeper into the heartland, bringing Europe closer to more US travelers than ever before.
Five new flights were announced just this week by Icelandair and WOW Air, the latest LCC salvo in a battle to increase coverage and siphon off passengers from legacy carriers and their traditional major-market hubs. The new routes reach deeper into the Midwest, bringing transatlantic flights back to markets that haven't seen them for decades.
Icelandair plans 4x weekly service to Cleveland starting on in May 2018. The last transatlantic flight from Cleveland was Continental service to London in 2009; flights to Paris were also offered by Continental when it had Air France as a SkyTeam partner. The Icelandair announcement is a huge boost to an airport that struggled to find a direction forward since United Airlines removed its hub operations in 2014. Since then various LCCs have tried to expand with limited success. And the prestige of long-haul service returning to Cleveland is more significant than a handful of occasional beach routes that shift year-to-year.
---
---
Adventures in America await! 👏🏻🇺🇸 Introducing 4 new exciting destinations in the U.S. 😱🎉 #wowair pic.twitter.com/gQn0dUGmzy

— WOW air (@wow_air) August 23, 2017
Following on the Icelandair news came an even larger announcement from WOW Airlines, with four new destinations planned for Spring 2018. WOW will serve Detroit, Cleveland, Cincinnati and St. Louis from its hub in Reykjavik, connecting travelers to Iceland or two dozen-ish destinations in continental Europe.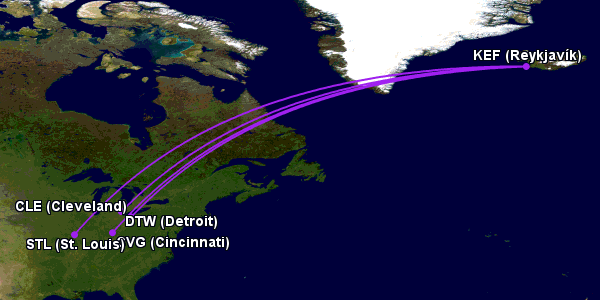 New WOW Air service start dates:
DTW Apr 26
CLE May 4
CVG May 10
STL May 17
---
---
The new routes not only make it easier for travelers to fly between the US and Europe, but also significantly cheaper. Introductory prices are low, of course, but even "normal" pricing in the new markets is generally well below historical rates. The LCCs also eschew traditional airline pricing rules, allowing leisure passengers to buy one-way tickets at the low prices. Travelers can mix-and-match between airlines and cities, assembling a more creative and cheaper itinerary than ever before. Yes, most tickets come with plenty of extra fees on top of the base price, but the overall cost to travel across the ocean is still much lower.
And today's news from STL leaves MCI as the largest w/o TATL service:
MSY – BA/DE 2017
STL – WW 2018
CLE – FI/WW 2018
BNA – BA 2018
MCI https://t.co/4ueEMO4YrT

— Justin Meyer (@JustinMeyerKC) August 23, 2017
Putting a small damper on the news is the challenge passengers will face in the hub at Keflavik. The airport struggles to keep up with the rapid growth from Icelandair and WOW's huge expansion in recent years hasn't helped. The new WOW flights are mostly timed to a second, later departure bank at KEF but the airport is still bursting at the seams.
Keflavik is not the only airport adding service to smaller US airports. British Airways just announced service to Nashville from its hub at Heathrow while Norwegian Airlines continues its unabated point-to-point growth, with Denver and Austin joining the festivities.
---
---
It is hard to keep up with the pace of route growth across the Atlantic at this point, a surprise given years of comments about the soft market and excessive capacity. The new entrants, the LCCs, are driving the trend but legacy carriers are not immune either. Their expansion may be more targeted but British Airways, American Airlines, United Airlines and Delta Air Lines all recently announced expanded transatlantic service for 2018 as well.
Related Posts: