As the last hours of 2017 tick away it is time, once again, to reflect on my year in travel and the (mostly) amazing experiences I've had across the globe. Some of the numbers are up, some are down. A few incredible "firsts" for me, too. Not a perfect year by any stretch, but still a damn good one.
Miles and Days
The raw numbers are relatively easy to track. I flew just over 179,000 miles across 90 flights (plus one joyride at Newark that counts as a zero, even though we flew for a couple hours). I spent 142 nights away from home, including 15 sleeping on airplanes. The bulk of my travel was to Europe, with eight trips across the Atlantic in the first half of the year and another four in the back half. A couple trips to Asia in November and a jaunt to South America in June round out my travel card. Nothing south of the equator this year is a mild disappointment but that will almost certainly be rectified in 2018.
Some 65% of my flights were in economy and 13% were in a middle seat. Fortunately those were mostly the shorter flights. And 80%+ were in a window. Only 40% of my miles flown were in economy compared to 20% in Premium Economy and 40% in business class.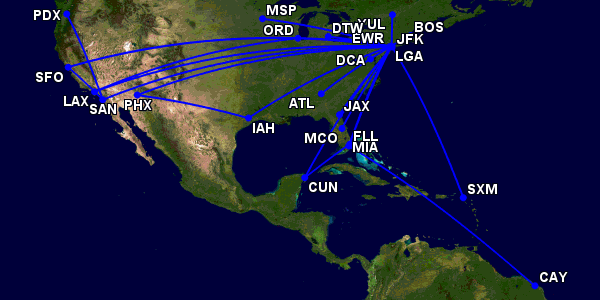 I also need to get better about actually using my points in 2018. In 2017 my main redemptions were to get home from Dublin (UA), Tokyo (DL) and Barcelona (AA). It turns out that cheap premium economy fares (~$600) from Europe to NYC mostly keep me happy. I did burn a few Avios to upgrade some of the overnights to business class. But originating in Europe continues to help me extend my travel budget significantly.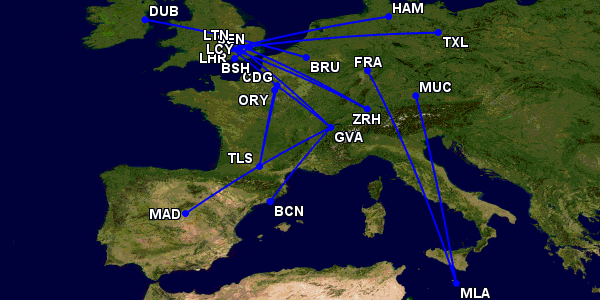 ---
---
New Dots, Lines and Airlines
Collecting new airlines, routes and airports is an increasingly difficult task. Fortunately, I keep rising to the challenge. Sometimes that's a bit contrived in effort. I mean, who goes to Japan solely to see how many LCCs they can fly in 48 hours?? Still, I managed to pick up 35 new routes overall.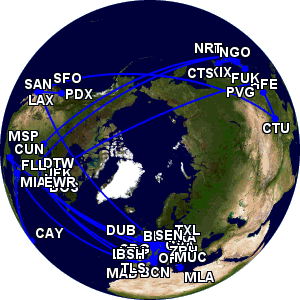 That number is relatively low compared to the 1,300+ new routes added to schedules globally, but I only have so much time and money to make it happen.
I also picked up six new commercial airlines (AirAsia Japan,Star Flyer,Peach Aviation, Vanilla Air, Chengdu Airlines and Iberia) and two private operations, Miami Air International and a buddy flying around southern England in a Piper Cherokee. The Cherokee was a new type for me as was the Chengdu Airlines ARJ21-700, a most bizarre trip indeed. I also finally got to try out a CSeries in "normal" conditions rather than on a press charter. I'm counting that as half credit.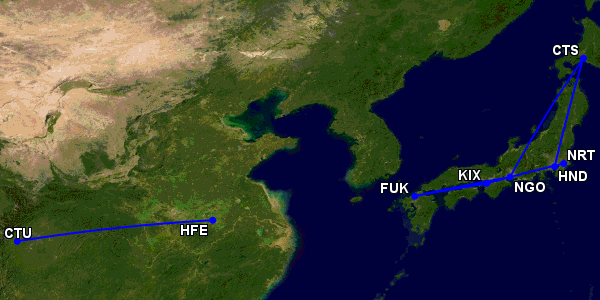 New Countries
My only new country of 2017 was French Guiana, and that visit was a bit more "managed" than I typically pursue. I have two new countries planned for January 2018 – Bulgaria and Liechtenstein – so those numbers should start ticking up again soon. Then again, I have no real delusions about chasing all of them so that might not matter too much in the grand scheme of things. UPDATE: And, as a friend pointed out, French Guiana is really a DOM of France, not a separate country. So, hrumpf.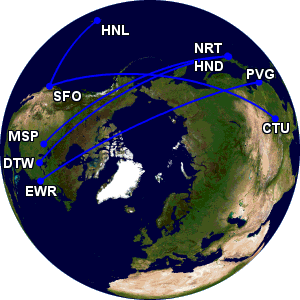 Even with only one new country I still collected plenty of passport stamps. I count 14 distinct country visits (France, Germany, Spain, Switzerland, England, Malta, Japan, China, French Guiana, Mexico, St. Maarten, Canada, Belgium and Ireland) across 42ish border crossings. My shortest stay in any one country was about 15 minutes in Berlin thanks to the lack of air-side transit. The longest was 9 nights in China, more than my prior visits combined.
---
---
New Adventures
Witnessing a rocket launch in person? I managed to tick that box not once but twice in 2017. I plan to catch a few more in 2018 as well.
After years of flying over the Grand Canyon I finally managed to walk down into it a bit. Not nearly enough, but certainly a memorable experience.
I finally flew the BA A318 across the Atlantic. I was on the inaugural Delta A350-900 flight and the final United 747-400 as well.
I got "fired" from one publication I wrote a lot for (technically not fired since I wasn't an employee, but the net effect is the same) and launched a new platform to share some of the more business-focused content I produce. Expect to see a greater push on that front in 2018 as I transition the way I'm running the business here. I'm also writing more for other outlets as a result, including the APEX association.
And there was the week I spent in a sweltering warehouse in Hialeah, Florida. It wasn't glorious by any means but it was the most rewarding work I've done in years.