Madrid, Amsterdam and Milan are joining the Norwegian Airlines Transatlantic route map. The rapidly growing carrier will add four new routes starting between May 2018 and July 2018 connecting to New York City and Los Angeles. Introductory fares start at $199 or $229 each way depending on the route and are available now.
Service from Los Angeles International Airport to Madrid will launch on July 16, 2018, and will operate four times per week. Service to Milan-Malpensa Airport will launch on June 18, 2018, and will also operate four times per week. Service from New York's John F. Kennedy International Airport to Madrid-Barajas Airport will launch on July 18, 2018, and operate three times per week. Service to Amsterdam's Schipol Airport will launch on May 7, 2018, and will operate four times per week.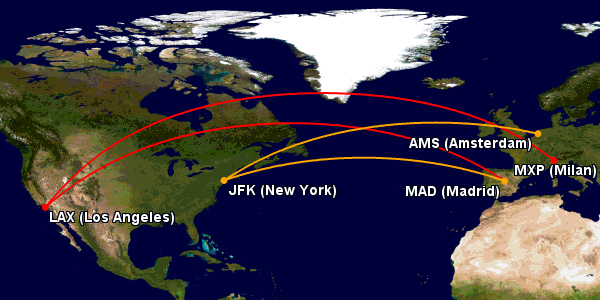 ---
---
Supporting the new routes also means hiring additional crew. To that end Norwegian is opening a new base at Los Angeles International Airport will open in Q1 2018 with plans to hire 150 cabin crewmembers. The airline already has four crew bases for cabin crew and pilots in the U.S. With more U.S.-based cabin crew than any other airline, Norwegian is also the only foreign airline recruiting American pilots to be based in the U.S.
2017 has been a year of exponential growth for Norwegian in the United States. Next year, we will continue our vigorous expansion and we plan to make three of Europe's most exciting cities so much more affordable and easier to reach for American travelers. We are not slowing down our quest to provide Americans with low fares and a high-quality onboard experience. – Bjørn Kjos, Norwegian's Chief Executive Officer
The carrier also hinted at further Transatlantic service from its London-Gatwick hub in Summer 2018. It acquired 28 weekly slots at the airport from Small Planet Airlines and is currently evaluation options for that service. The relatively small number of slots seems slightly disappointing in comparison to British Airways' score from the now-defunct Monarch Airlines. Still, the opportunity to add a few more destinations from London should add to the 60+ routes Norwegian flies across the Atlantic today.
---
---
Norwegian is quick to point out that it will offer the only year-round service from Los Angeles to Milan and Madrid, though not daily in either market. At New York's JFK both the Amsterdam and Madrid service face competition in the form of multiple daily flights from multiple airlines. That will quickly become a most interesting market to watch as pricing and inventory adjust to the new services.
Read More: