So What??
Long Beach is an interesting choice, but helps the carrier continue to grow its Southern California presence.
Apparently the slot comes from one JetBlue is returning to the airport authority
. Also convenient that the announcement comes on the day the A321neo launches mainland service with the inaugural Maui-Oakland flight operating today. Hawaiian is definitely delivering on the
promise of growing into secondary markets with the neo
.
Beyond that, summer seasonal service to a gateway where partner JetBlue also operates may make some sense. Or it may be a precursor to competitive strife in the partnership. Hawaii is also a long-rumored destination for the New York-based carrier when its A321neo aircraft arrive, though these days Europe is the sexier neo destination scuttlebutt.
HONOLULU – Hawaiian Airlines today announced it will begin daily non-stop flights between Long Beach (LGB) and Honolulu (HNL) in the summer, offering Southern California travelers another convenient option for direct service to Hawaii. The new route, being inaugurated May 31 out of Honolulu on Hawaiian's new Airbus A321neo aircraft, complements the carrier's popular daily flights at nearby Los Angeles International Airport (LAX).
"Long Beach is a perfect gateway for travelers in Los Angeles and Orange County to ease into their Hawaiian vacation," said Peter Ingram, Hawaiian's executive vice president and chief commercial officer. "We look forward to welcoming our guests onboard, where they will enjoy our award-winning Hawaiian hospitality in the comfort of our newest aircraft."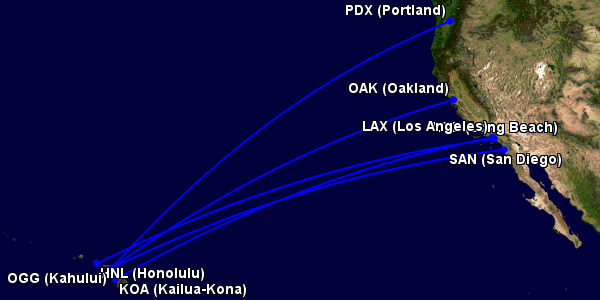 Starting June 1, Hawaiian's Flight 69 will depart Long Beach at 8:30 a.m. and arrive in Honolulu at 11:40 a.m., giving travelers the afternoon to explore O'ahu or connect to a neighbor island. The return flight, HA 70, departs Honolulu at 12:30 p.m. and arrives in Long Beach at 9 p.m.
---
---
Hawaiian, Hawai'i's largest and longest-serving carrier, is deploying a new fleet of narrow-body A321neo aircraft to provide U.S. West Coast guests non-stop flights to more islands. The airline today is celebrating its first scheduled A321neo flight, between Kahului (OGG) on Maui and Oakland (OAK), as it prepares for service between Portland(PDX) and OGG on Jan. 18, followed by flights between OAK and Līhu'e (LIH) on Kaua'i on April 11, and Los Angeles (LAX)-Kona (KOA) on the Island of Hawai'i in the summer.
The highly efficient, mid-range A321neo aircraft complement Hawaiian's fleet of wide-body aircraft currently used for service between Hawai'i and 11 U.S. gateway cities, along with 10 international destinations. Hawaiian's 189-passenger A321neo includes 16 luxurious leather recliners in First Class, 44 Extra Comfort premium economy seats, and 129 Economy seats. In addition to Hawaiian's warm hospitality, including complimentary meals, guests will enjoy wireless streaming in-flight entertainment, access to USB outlets, and additional overhead stowage space.
---
---
Header image: Rendering of a Hawaiian Airlines A321neo, courtesy of the company