It took a few years but El Al finally discovered what so many other airlines before also know: An airline within an airline model almost never works. In this case the offering was Up!, the LCC that carried passengers between Israel and destinations in Cyprus, Germany, Ukraine, Hungary and the Czech Republic. Up! is shutting down and those markets will revert to "mainline" El Al service in Q2 2018.
The goal with Up! was to compete with LCCs like Ryanair and Wizz Air. El Al simply never got there on the cost side. And that should not be too surprising to anyone, least of all to the company insiders who knew what their operating costs were and what would be required to cut to the LCC levels. It was never going to work, but they tried anyways. And failed.
---
---
In some ways it is almost like the company didn't try all that hard. The last press release on the Up! website is from 2015. The route map never grew beyond a handful of destinations.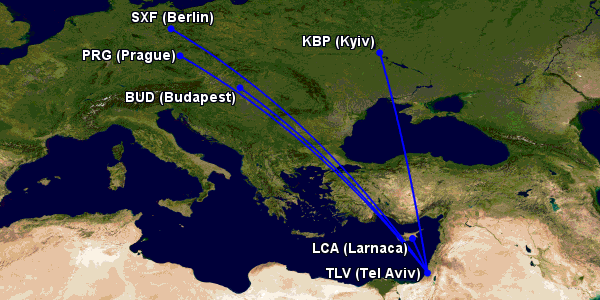 The "good news" if there is any to take away from this shift is that El Al will now change over its regional operation completely rather than trying to target a handful of routes. The carrier will implement the unbundled fares across all of its European routes. At the base level no checked bags or advance seat assignments will be given. At the top end of the range checked bags and seat assignments are included, along with what the company describes as increased flexibility if a passenger wants to change flights.
---
---
Of course, that is good news to the airline as it almost certainly means more passengers will be paying more. Like the unbundled fares and Basic Economy offerings of every other airline the goal is to extract higher revenues from the passengers on average. And it mostly works. No reason to believe that El Al will be all that much less successful than the others with this approach.
Header image: Up! on the ground. By Anna Zvereva/Flickr via CC BY-SA