Singapore Airlines gave it the "old college try" but it turns out that the Capital Connector was simply not to be. The carrier is killing the Canberra-Wellington route, launched in September 2016. It will be replaced with a triangle route operating from Singapore to Sydney and then on to Canberra before returning to Singapore. The carrier does not have local traffic rights (cabotage) on the Sydney-Canberra segment. The new flight (SQ288) will operate on a 4-class 777-300ER, an up-gauge from the current 777-200.
https://twitter.com/jessedorsett/status/955944985672609792
But Wellington isn't losing out completely. It will gain a connection to Melbourne on the SQ247/248 turn, with continuing service to/from Singapore. This route will operate 4x weekly and stands a much better chance of profitability than the Canberra connection. Singapore Airlines will face some competition on the route – both Qantas and Air New Zealand also cross the Tasman Sea connecting these cities – but there is also some semblance of demand, something the Canberra connection did not have.
---
---
The Melbourne connection does still present the crew positioning challenges (especially with non-daily service) and Wellington remains a small spoke on the map. But the new route keeps decent loads on the main service between Singapore and Sydney or Melbourne; the tag flights are slightly less risky with this setup. And, despite losing the onward connection to New Zealand, Canberra keeps the Singapore flight so it is not without international air service.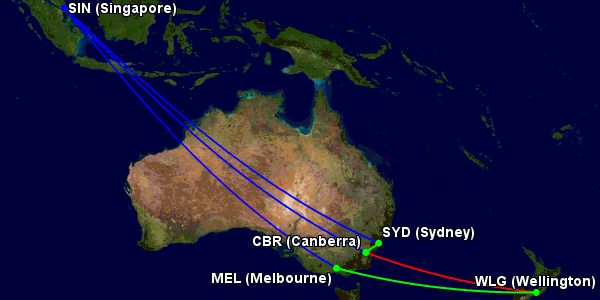 ---
---
From a rewards perspective losing the 777-200 into Australia is unfortunate as Singapore Airlines is very restrictive about releasing premium cabin partner awards on the better hard product. There's a decent chance some inventory will show up for the Melbourne-Wellington segment, though the Krisflyer website won't price it out right now.