Facing new details around issues with the Rolls Royce Trent 1000 engines used on the Boeing 787 Dreamliner the FAA slapped limits on the aircraft's operations. The new rules reduce the "ETOPS" certification from 330 minutes to 140 minutes for all 787s registered with and operating under FAA authority. The Agency identifies 14 such aircraft. The bulk of these are operated by Colombian airline Avianca.
While the planes are based at the carrier's hub in Bogota they are owned by leasing companies in the United States and therefore carry US registrations. This places them under the auspices of FAA regulatory control in addition to that of Colombian authorities. Aeromexico similarly leases 787s but they fly with GE engines and are not impacted by the new rules.
The 58% cut in the distance the planes can fly from a diversion airport appears massive at first blush. It is significantly better than the potential ETOPS revocation when the lithium ion battery issues flared up in 2013 and may prove to be a non-event for Avianca.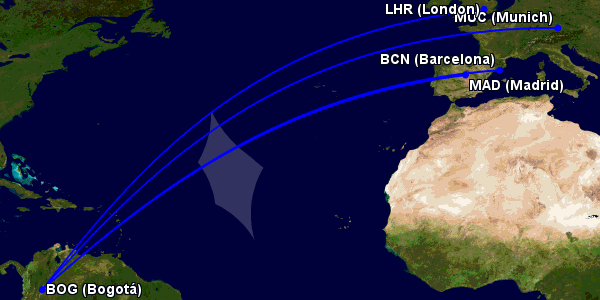 The restriction only impacts the carrier's Transatlantic flights and those are, for the most part, flying within the 140 minute diversion threshold anyways. The most direct route for the flights between Bogota and Europe would potentially cross into no-go zones with the 140 rule but common flight paths keep the planes closer to the diversion airports anyways.
---
---
The 140 number is an interesting one to choose given that the FAA historically has not set that as an ETOPS limit. Early certifications used 120 minutes And eventually a 138 minute rule was established (120+15%) to enable Transatlantic routes when some diversion airports may be closed due to weather. A 180 minute certification entered certification in 1988 and the 240 and 330 ETOPS followed, the latter being designed into the 787 from its conception to facilitate the "long, thin" routes Boeing expected it to serve. And it is flying many such routes today. Was it chosen specifically to allow the Avianca routes to continue??
The FAA ruling only affects N-registered aircraft initially but many other regulatory bodies use the FAA or EASA (European) rulings as guidance. This decision from the FAA could carry much more significant consequences for other operators, particularly in the Pacific theater, should those regulators follow suit.
---
---
For its part, Rolls Royce maintains the issues are isolated to the "C" revision of its Trent 1000 engines. The newer TEN engines are not affected by this directive. The company also believes that additional engine inspections will cost it some cash but that will be accounted for through other discretionary cuts.