Southwest Airlines trickled out a few more details for its planned Hawaii service today in conjunction with its quarterly earning report. The carrier confirmed four destinations in the islands will see service:
Honolulu International Airport (HNL)
Lihue Airport (LIH)
Kona International Airport at Keahole (KOA)
Kahului Airport (OGG)
While it stopped short of confirming a service launch date or mainland gateways, the company did state that the planning is "on track" for launch later in 2018 or early 2019.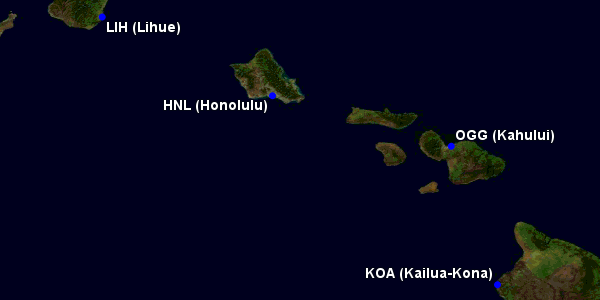 ---
---
Perhaps more intriguing to passengers, however, is a comment made about pricing during the earnings call. Company President Tom Nealon, responding to a question on how long it would take for the routes to be profitable, suggested that the carrier will "lead on pricing" as it launches service. This aggressive behavior would be aimed at beating the typical 3 year path to profitability for new longer routes that the carrier launches.
That suggests it could be a fun, wild, chaotic period for Hawaii fares. (We might need to pack for an islands trip we didn't expect to make in late 2018/early 2019.)

— justinbachman (@justinbachman) April 26, 2018
Nealon also noted the large west coast customer base loyal to the carrier as helping to drive traffic to the new routes. In theory that customer loyalty will reduce some of the need for a pricing war, but it seems the company is ready to play that angle as needed.
---
---
Timing of service launch
It is also worth noting that the carrier has shifted its position from "We'd love to be selling by the end of 2018" to "We'd love to be flying by the end of 2018." That mostly depends on ETOPS certification from the FAA to operate the overwater segments. Nealon notes:
We'd sure love to be able to fly this year. It depends on ETOPS and you cannot start with a full schedule. You have to grow your way into it.
The carrier expects that the initial launch would be just one city pair, "We definitely plan to start very modestly." That said, Kelly does not expect that it will remain just one city pair for long.
CEO Gary Kelly expanded on that topic, suggesting that the necessary aircraft are allocated for the service from a fleet planning scenario:
We've reserved aircraft for the new service. We haven't told you exactly what we're planning because we cannot commit to an exact date yet. If we're not flying to Hawaii with those airplanes we'll fly somewhere else…. Right now we hope they're going to Hawaii.
A Hawaii alternate
One option for using the planes if the Hawaii service doesn't come to fruition is growth in Long Beach, California. JetBlue announced yesterday it would cut service at its west coast focus city, freeing up slots for competitors to increase position in the market. While most other airlines are shying away from committing to new service at LGB Kelly says that, "We have been hobbled by not being able to have more access to Long Beach so [B6 cutting] is welcome news."
Header image courtesy of SWAMedia