I missed a flight to London last Saturday night. It was on purpose – I decided to not attend the conference several weeks prior – but the decision was somewhat bittersweet. It brought to the end a journey that began in February 2015. I no longer am originating in Europe for my transatlantic travels. After nearly four years of nesting trips over and over again (sometimes holding more than one at the same time) I've run out of return flights to Europe and must start anew.
I think a 4.5 year long travel streak of mine just ended somewhat unexpectedly. I'm not sure how to feel about this.

— Seth Miller (@WandrMe) August 3, 2018
---
---
The streak began in Istanbul in February 2015 (my initial Tweet about the streak ending was off by a year; whoopsie!). I was attending a conference there and FlyingBlue happened to have Istanbul as a 50% off destination in premium economy that month. I booked a one-way trip in and then started to get creative with the return trip. That first time was a British Airways/American Airlines open jaw, from Istanbul to New York City then returning to Hannover, Germany. It was far from the cheapest of the fares I'd buy over the years but it positioned me for the next conference at a lower price then I could get otherwise. All I had to do was find my way home from Germany at the end of that event. And so I did. Over and over again.
A one way trip from Havana to Paris helped keep the streak alive. Cheap fares starting in Scandinavia certainly didn't hurt. Neither did a British Airways sale on Premium Economy fares originating in Germany. I flew three of those in early 2017, lining up the dates with conferences over consecutive months. All three had Avios upgrade space available on the redeye back to London. With fares under 600 euro it was wonderful to see the trips line up, especially flying part in business class.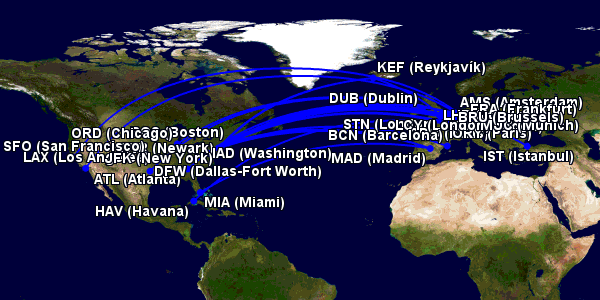 I always knew it would come to an end, of course. I honestly thought the streak would end several times previously. I'd buy tickets with an uncertainty about returning. Maybe I'll go to London on Memorial Day weekend? Of course, if I do that then I need to get to Miami so I can pick up a trip to French Guiana on the way to Cancun. And I did all of that rather than throwing away the return to London and just going straight to Florida. That left me with a business class return trip to Geneva via Madrid, which I used to position to a conference in Barcelona. And then I figured out a new trip home from there, starting the game all over again.
---
---
It was a great puzzle, trying to fit all the pieces just right. I loved trying to nest the trips and figure the positioning flights and otherwise make sure I didn't screw up and miss a new trip. Norwegian (and a drunk Polish passenger who decided to drop his pants on a flight to London) almost hosed me once. I scrambled but managed to recover quickly and find an award seat on the last BA flight available that could save the trip. I had that booked even before my original flight formally cancelled; it was a smart and cheap hedge.
There were a couple other change along the way, but generally on the return half (i.e. US to Europe) so it was just the change fee, not a fare difference. I easily saved a few thousand dollars over a dozen tickets thanks to this approach. Sure, some of those savings were eaten up by positioning to a different city on one end of the trip or the other, but I still came out way ahead.
And the best part is that I've got another trip coming up in January, one where I'm pretty sure I can start the savings and adventure all over again.