Another year is done and I have another collection of random stats that explain a little about my crazy. I moved in 2018. It was incredibly annoying and stressful and also means I have a new home airport (really a few to choose from). It also mean more new routes for me to start flying than I previously would have considered. It also meant fewer total trips and miles than I've flown in prior years. Here's how it breaks down.
The full map shows 165,367 miles across 76 segments. My average trip is long, it turns out. Those numbers were helped by DFW-SYD and PER-LHR, two of the ten longest flights currently operating. Add in a couple trips to Asia and the average skews pretty long in a hurry.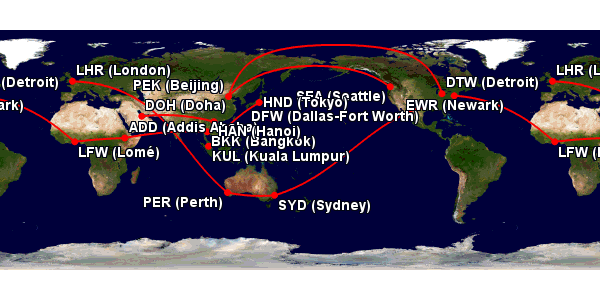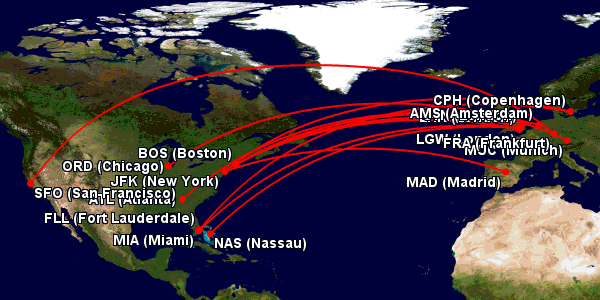 Fortunately a decent chunk of the time was in a big, comfy seat. But half of it was not. I spend a lot of time in economy class, even crossing oceans. But I did manage to spend more than 95% of my trips in a window seat. That's a big win for me, regardless of class of service.
Of the 76 segments some 40 were on routes new to me at the time. Every year I think getting new routes will be harder and harder. Every year I manage to stay right around half my segments being new. Sure, I go out of my way to grab them when I can. But it is also a testament to the number of new routes airlines are constantly adding. This year was the first time in history more than 20,000 city pairs are served on a daily basis according to IATA.[new long routes tatl]
One of my favorite slides every year from @IATA, showing the growing industry via direct city pairs served. For the first time ever the global aviation industry now served more than 20,000 unique routes. #AvGeek #PaxEx #IATAMediaDay pic.twitter.com/7ruJSJjMor

— Seth Miller (@WandrMe) December 12, 2018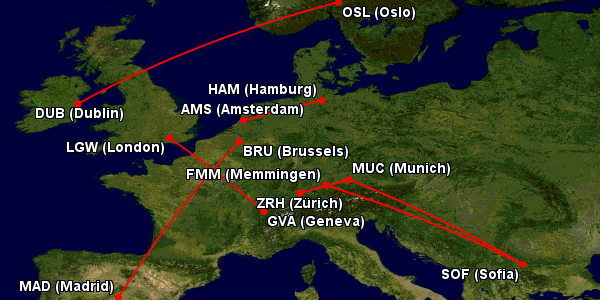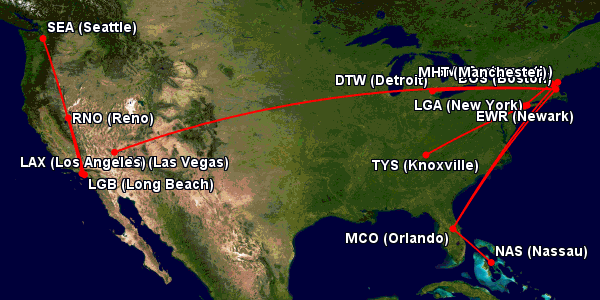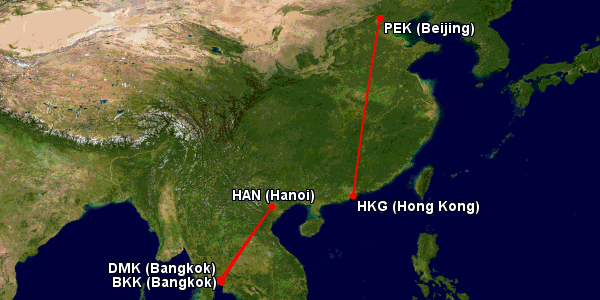 I flew to or from nine new to me airports through the year. One was an inaugural departure from Portsmouth, NH on Frontier. That's the only inaugural I scored during the year. I had to pass on a couple others owing to schedule conflicts, a typhoon, or general lack of motivation to make it happen.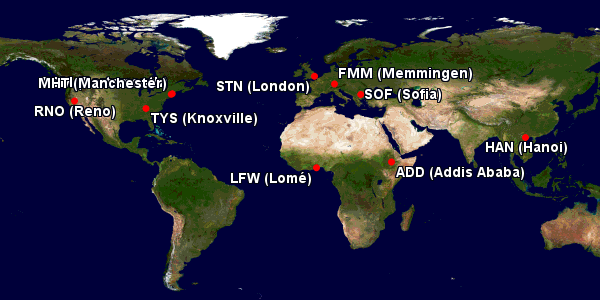 Elite Status
With all that flying I must have a ton of points, right? Truth is I use points for a decent amount of my travels, but I still managed to earn elite status on three programs this year. One was United where my Million Miler lifetime status still holds. I also qualified as Executive Platinum on AA for the first time ever, mostly by accident. A few long-haul premium cabin fares on partners can do wonders for those earning rates. I also qualified for TrueBlue Mosaic again, this time thanks to the credit card spend method. I may have done better with some of that $50k in spend on other cards but the benefits of Mosaic are very real for me and the points generally work where I need them.
Hotels
Like most years I pretty much ignored hotel status. Even with 119 nights away from home I didn't bother to focus on a single brand for earning. And it worked out pretty well for me. That United Million Miler status gets me Marriott Gold (or Platinum, I guess, depending on the year) so I have something should I show up at one of their properties. And for the rest of my stays I generally just book the right priced room that gets me the benefits I need. My overall spend is generally lower that way than focusing on status, though I also really don't care about room upgrades. I still use AirBnB a decent amount, 22 nights in 2018. I also managed to return to a property I'd stayed at previously. And I'm going back again in 2019. Finding the "right" place to stay can make any trip better.
What's Next?
Looking ahead to 2019 I see a lot more of the same. And that's a good thing. Running a consulting business in the travel industry means spending a lot of time in the travel industry and I wouldn't have it any other way.