The "GoPack" is back from JetBlue. These packages of flight coupons for specific routes are available once again (previously on sale in 2012) and they represent a potential savings for some passengers, but they're not likely the best choice for most leisure travelers. The packs this time around cover four sets of routes and can be purchased in either 6 or 10 coupon allotments. The coupons are fully transferrable but non-refundable so don't book a seat on a flight until you are 100% certain you're going to want it. The part where they can be used to grab any available seat up to 90 minutes prior to departure is definitely a plus, especially for someone who books a lot of last-minute flights.
The packs are on sale until 31 March 2014 or while supplies last, though we don't know how many are for sale so it is hard to know if that's a risk. Once purchased the coupons can be used for travel between February 25 and June 17, 2014 except for the 2.5 week blackout period of April 11-28.
Here are details on the four packs available today:
Boston – Washington, DC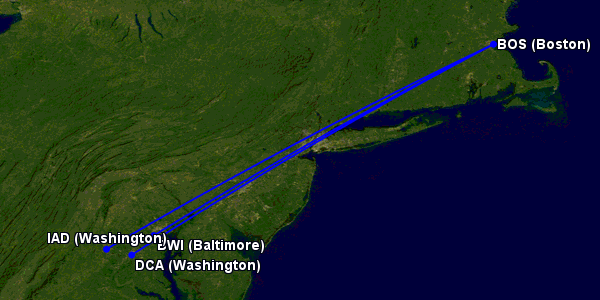 Fly between any of the three DC airports and Boston with this pack The 6-coupon option is $939 ($156.50/flight) while the 10-pack is $1369 ($137/flight). Walk-up fares are in the $280 range today while advance purchase seats can be had as low as $59. In 2012 a similar offer sold at $769 for a 10-pack, a significant discount versus today's version.
Big Apple Regional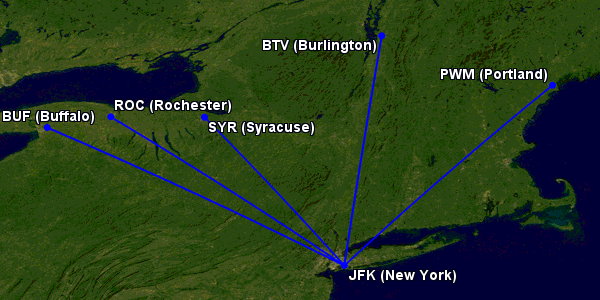 Fly between JFK and Buffalo, Rochester, Syracuse, Burlington or Portland at a rate of $839 for 6 coupons ($140/flight) or $1,269 for 10 coupons ($127/flight).
In 2012 this pack sold for $1,169 for the 10-coupon version. The current version is reasonable compared to that. The walk-up fares in these markets range as high as $360 while the advance purchase fares dip below $80 based on searches this afternoon, though some of the advance purchase options (Portland seems to be higher than the others most days) are up near the pack purchase price already.
California Commuter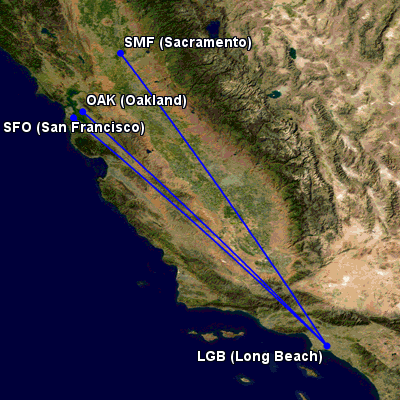 The west coast pack this time around connects the Long Beach hub with San Francisco, Oakland and San Jose. The pack prices at $739 for the 6-flight option ($124/flight) and $1069 for the 10-pack ($107/flight). Walk-up fares are hovering below $200 in these markets while advance sales are as low as $49. This seems like a very challenging one to get great value on. Back in 2012 it sold at $70-90/coupon for packs ranging in size from 10 to 30 coupons.
Snowbird Express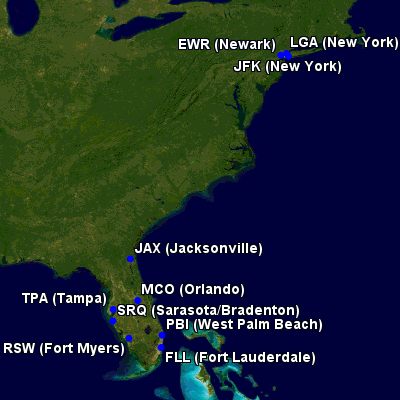 This is a new option on the GoPack front, offering service between any of the three NYC airports and seven options in Florida (Fort Lauderdale, Palm Beach, Orlando, Jacksonville, Fort Myers, Tampa and Sarasota) as part of a single purchase. The prices are $1,239 for the 6-pack ($207/flight) and $1,669 for the 10-pack ($167/flight). Advance purchase fares are in the $89-149 range on these routes while walk-up fares start around $260 and head up from there to near $500.
Prices are up – in some cases significantly – for the GoPack choices this time around. But that doesn't necessarily mean they're a bad deal. It really depends on your travel patterns.
More details and fine print available on the JetBlue shopping page.
Related Posts: