It seems that we might find out a bit later this year what a Virgin America hub operation would look like at Dallas's Love Field. The carrier made in known today that they have applied to the US Department of Justice to take over two gates which American Airlines is required to release as part of their merger with US Airways. The two gates would give Virgin America the ability to operate 18 daily flights from Love field; they would serve five major business destinations if given that access.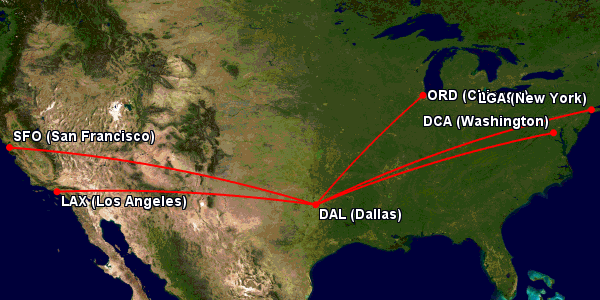 The San Francisco-based carrier has already gained the necessary slots at LaGuardia and National as part of the AA/US divestiture process (they actually would have extra slots at LGA still even with the proposed move) and LA, San Francisco and Chicago are not slot-constrained. But Virgin needs the gates at Love Field for any of this to work out. They have also indicated that the current operations at DFW would shift to Love if they get the gates. LaGuardia and National would get four daily flights to start while San Francisco and Los Angeles would have three each, growing to four in 2015. Chicago service would be twice daily starting in 2015.
Virgin America has not been shy about going head-to-head with established incumbent carriers but this expansion would likely be their most aggressive move in that direction. Southwest Airlines controls 16 of the 20 gates at Love Field and will have the advantage of connecting traffic to help fill their planes. Plus Southwest has already made it clear that they're expanding service from Love Field to include LaGuardia, National, Los Angeles and Chicago's Midway airport. Only the SFO route would operate without competition for Virgin. Southwest has not announced their service frequencies for those routes yet but the Dallas-based carrier acquired far more slots at both National and LaGuardia than Virgin America did, leaving them the potential to offer greater flight options.
And this all assumes Virgin gets the gates. Delta has also applied to the DoJ for the gates and announced their own schedule, adding service to Atlanta, Detroit, Minneapolis-St. Paul, Los Angeles and LaGuardia. Delta even went so far as to begin selling the flights in their reservations systems, suggesting a certain confidence in their chances of grabbing the gates. Or an arrogance. Hard to say exactly which.
Virgin America seems unfazed by Delta's moves at Love Field, confident that the DoJ will select a new entrant and a "low cost carrier" to add service. And just maybe they'll remember how Delta bailed out at DFW some years ago and decide to not give the airline another chance in Big D.
Update (5 March 2014 2:30pm EST): Delta has issued a statement indicating that they "welcomes the opportunity to compete with Southwest and Virgin America at Dallas Love Field and believes the airport can accommodate all three carriers." This is great as a sound-bite, of course, but ignores the circumstances of the situation. Delta cannot expand as they have planned without the same gates which Virgin America and Southwest are seeking. Delta's original announcement makes it clear that the carrier will require these same gates to be able to expand as desired. Until the DoJ acts it is all a guessing game.
Assuming that everything plays out the way Virgin America wants they'll still have two extra slot pairs at LaGuardia. I wonder what they'll do with those.
Some additional coverage available from USA Today's Today in the Sky.
Related Posts: