Multiple sources are now confirming reports within the company that United Airlines will be (finally) launching service to Santiago, Chile from their hub in Houston. The flight will be operated by a 767-300 flying overnight daily in both directions.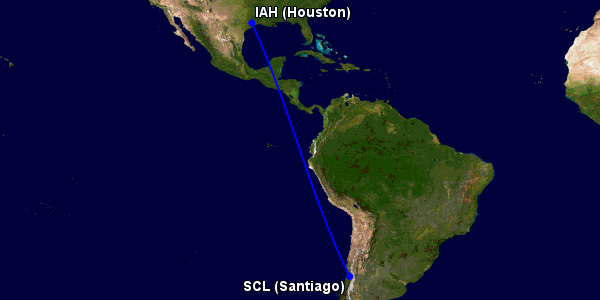 From an internal company announcement:
We will announce on Monday plans to launch nonstop Boeing 767-300 service to SCL (Santiago, Chile) from IAH beginning Dec. 7, 2014, subject to government approval. We also will launch service between IAH and PUJ (Punta Cana, Dominican Republic) and between ORD and BZE (Belize City, Belize) on Dec. 20, 2014.

Flight 847 will depart IAH daily at 9:05 p.m. and arrive at SCL at 9:40 a.m. the next day. Return Flight 846 will depart SCL daily at 10:45 p.m. and arrive at IAH at 5:40 a.m. the following day. This service expands our already substantial presence in Latin America. We timed the flights to provide convenient connections beyond IAH to 111 airports across the U.S. and more than 60 international destinations.
The lack of service to Chile has long been an interesting source of discussion for the armchair CEOs since the merger of United and Continental. Prior to the merger Continental didn't have sufficient widebody aircraft to add that route (with the long layover on the ground in Chile the route essentially requires 2 planes for 24 hours of flying). With the merger and the subsequent conversion of 763s from domestic service to international configurations this route was assumed by many to be part of the growth plans. But until now it hasn't materialized. Who knows why other than the folks in network planning, but it is definitely nice to see the route back on the map. The company last served Chile in the late 1990s (I don't know the exact date service ceased but it is on the 1999 route map and not the 2001 map) from Chicago.
Having this on the map is a great addition. Always good to see growth where viable.