I've made no secret of my love for speculative booking, particularly when there are no fees to change or refund a ticket. And yet I'm still a bit worried I may have overdone it recently on our July vacation to Canada. For a simple round-trip itinerary it turns out that I had at least ten (possibly as many as 15!!) different bookings over the full course of the booking/travel process (max was 3 at a time, though). Still, I'm also not entirely convinced I was wrong to do what I did.
The initial booking in April consisted of five different one-way trips. I was booking as one-ways because I wanted some mix-and-match flexibility as we finalized our plans and also because there was no reason not to and I get $5 per ticket booked online via United so there's a sliver of extra credit to me there. I also needed flexibility as we were going back and forth with a tour operator about which dates would be available for the trip and the space was starting to dry up. I needed to "protect" a few different weeks and the free refunds let me do precisely that.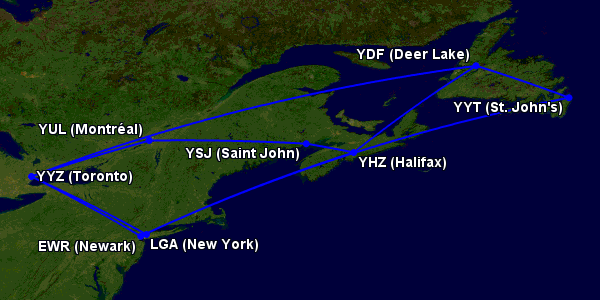 Of the five initial bookings I canceled three after we finalized things with our guide leaving just the two we planned to fly. No big deal there. Until Arthur got in the way and hosed up our travel nicely. Over the three days it took us to get from New York to New Brunswick we were booked on no fewer than eight different routings (EWR-YHZ-YDF 2x, EWR-YYZ-YDF, EWR-YYT-YDF, EWR-YYT, LGA-YYZ-YDF 2x, LGA-YYZ-YUL-YSJ) in an effort to finally get where we were going. That pile of plane tickets was ridiculous when all was said and done, but we did eventually get there.
And once that change to our travel was finalized we found ourselves in Canada with no ticket home. At least not from the province we were visiting. That meant another cancelation and booking various other options to get back. I ended up booking three different itineraries as options for return trips, a mix of Saver and Standard awards, one in business class and eventually one on a non-stop which was only 10,000 points because it is a short enough non-stop route on United metal. These three were very much a case of panic booking to make sure we had something available to get home and then refining the itineraries and keeping our options open.
So, sure, maybe I had a few too many tickets booked of my own volition early on in the process, but some of the many rebookings were also caused by flight cancelations and other changes which we did not really control. And, in the end, I refunded/canceled all of the "extra" flights as soon as I knew I was not going to be taking them. Still, there were points when I was holding a few more seats than I reasonably intended to fly. And I'm completely OK with that.
Or do y'all think I took it a bit too far??
Related Posts: