Apparently Virgin America has some slack in their aircraft utilization for the coming winter schedule. That's actually typical; many airlines reduce flights in the winter as demand decreases. Virgin America, however, is using the winter season as an opportunity to try to build up a couple snowbird markets. The carrier announced daily seasonal service between New York's JFK airport and Ft. Lauderdale as well as 4x weekly service between Boston & Las Vegas. There will also be two additional weekly flights between Las Vegas and JFK, keeping that aircraft busy for the whole week.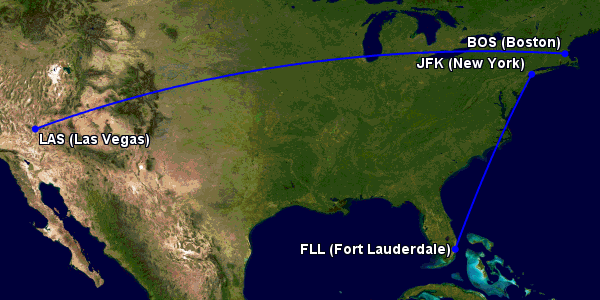 The FLL-JFK route does appear to be taking advantage of some slack in the current schedule of aircraft in and out of South Florida and there is already a presence at JFK so expenses at that end should not be too significant. Still, this move comes on the heels of Frontier announcing service between Miami and New York City (albeit LaGuardia) and there's also the incumbent operators JetBlue (9x daily)and Delta (4x daily) (plus American to Miami and United out of Newark). There is plenty of demand for service in the NYC-MIA/FLL market – more than 2 million passengers flew it over the 12 month period ending June 2014 – but there is also stiff competition. And it isn't like Virgin made a huge splash putting seats on sale when they showed up. A $99 one-way rate is nice but unlikely to shift a ton of passengers there way. Especially with only 1x daily service.
For Boston-Las Vegas the only non-stop competition is JetBlue (2x daily) and Virgin is clearly targeting leisure passengers with its 4x weekly service Thursday-Monday.
So, what gives??
Virgin America says in its S-1 filing that the goal is to attract more business customers. And I suppose that the JFK-FLL route is one of the "key leisure" destinations that is also important to offering a well rounded operation which attracts those same customers?
We target the business community by providing a premium travel service between our focus cities and many of the most important business destinations in North America, as well as key leisure destinations that we believe are important to business travelers when flying for leisure travel.
Because nothing impresses a high-value customer like limited options and a short-term horizon for service.
In total this is about 15 hours of extra flying per day. That's roughly one plane's worth of activity. Not a huge investment but also not likely to yield huge results. And with the high competition in the NYC-Florida market it seems unlikely this will drive great yields, but, again, the costs are relatively low to find out.
UPDATE: Also during the same period the carrier will be trimming Chicago O'hare service down to 1x daily to each of the California hubs. Currently the service is 2x daily. Hardly seems like a business-traveler focused move there.
Maybe this is just the tipping point Virgin America needs to shore up some revenue and make a big splash in advance of the expected IPO. Or perhaps someone in Burlingame got a hold of Delta's dartboard. I certainly don't think these routes make much sense in the competitive landscape but maybe I'm wrong. We'll see soon enough.
Related Posts: