What is it like to cross the Atlantic ocean without an ETOPS rating? For some British Airways passengers the answer is about 2 hours longer than usual. Travelers between London Gatwick and Bermuda have taken the scenic route over the past two days thanks to what is being reported as "minor engine issues" on the 777-200 flying the route, G-VIIX.
G-VIIX has operated the BA Bermuda service the past few days via the non ETOPS routing due to slight engine issues! pic.twitter.com/DR90ogObI1

— PlaneMadNews (@PlaneMad_News) June 3, 2015
And the flight path shows just what such a detour looks like.
Without the ETOPS operation the plane can stray no further than 60 minutes from a diversion airport. Not surprisingly that looks a lot like the route flown the past couple days.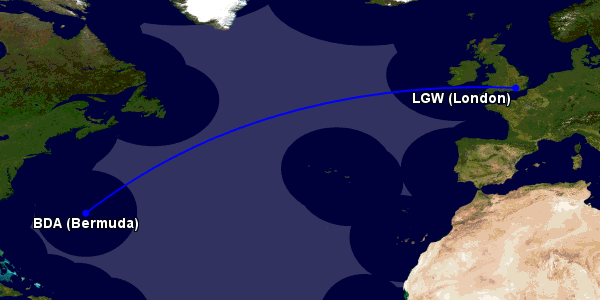 At least flying the non-ETOPS route was an option in this case. There are plenty of routes where it would not have been viable. The delays certainly suck, but better than a cancelled flight, I'd say.
Related Posts: