A couple of years ago I produced a list of all the Transatlantic routes by alliance to help with searching for award trips and generally to enable those seeking to find new ways to get across the ocean. The data, unsurprisingly, became stale and things have changed. Also, I managed to ignore SkyTeam in that cycle. This time around I'm updating the data and SkyTeam made the cut. And, based on feedback last time around, I'm also including routes crossing between South America and Europe and reaching a bit further east as well. I'm still ignoring Africa for these results, though. Here is the latest collection of SkyTeam Transatlantic routes, gathered from timetables, published route maps and other sources. I'm pretty sure it is accurate though I'm guessing I missed one or three in there somewhere.
Aerolineas Argentinas & Aeromexico
These two Latin American carriers combine for 5 routes across the Atlantic. Not a ton of service but every little bit helps, I suppose.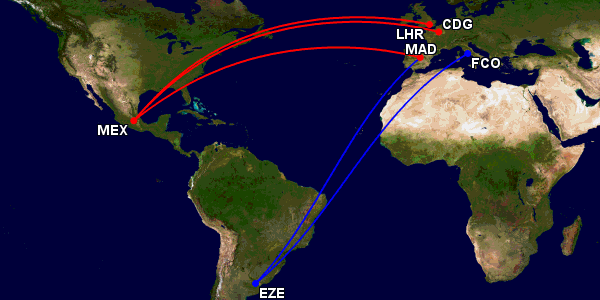 Aeroflot
Speaking of "every little bit helps" we've got Aeroflot playing along, too.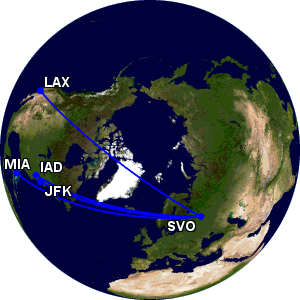 Air Europa
Air Europa has a solid showing into LatAm, helping boost its route profile.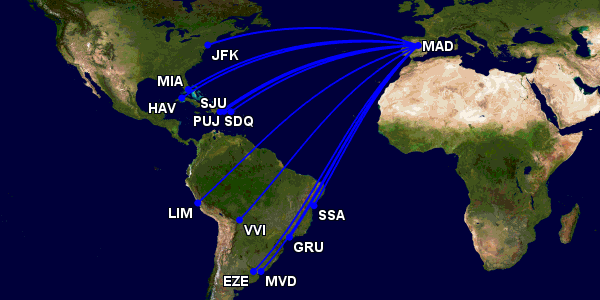 A solid mix of routes covering North America, the Caribbean and South America gives Air France an impressive display here, the second most of the alliance. A few of the Caribbean routes run from Orly.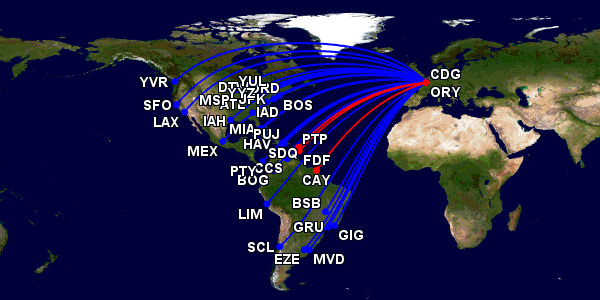 Alitalia
Alitalia's Rome hub continues to push passengers across the Atlantic. And expect more growth there soon with Etihad pulling the strings.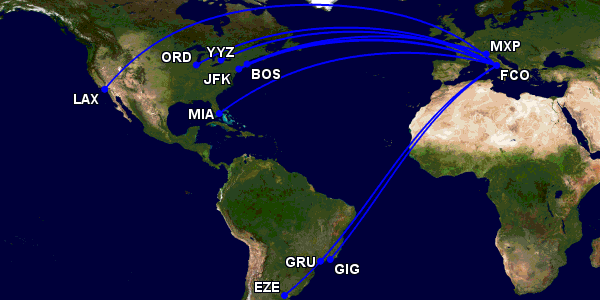 Delta currently flies the most Transatlantic routes of any carrier, edging out United by one. A few non-hub routes help, connecting to SkyTeam/JV partners in Paris and Amsterdam.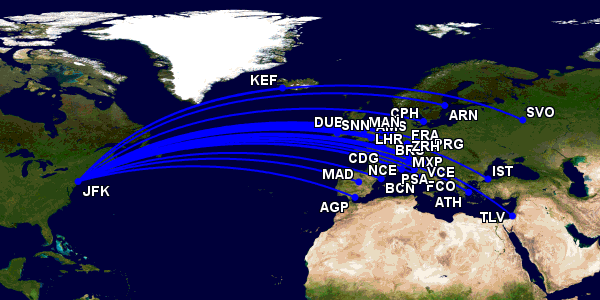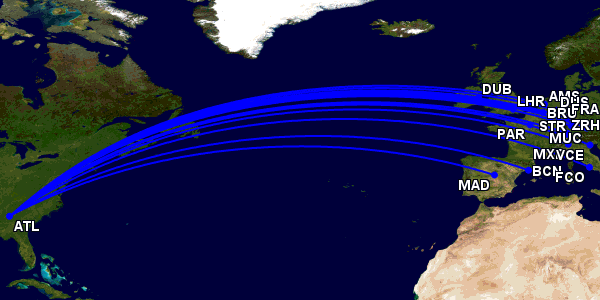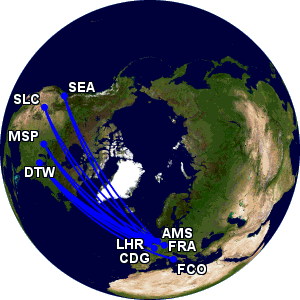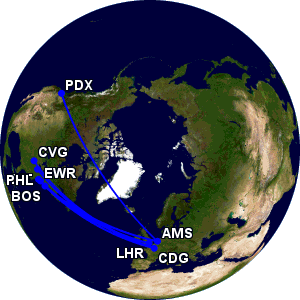 Similar to Air France, KLM has a solid spread of routes, especially to its protectorates and former colonies in the Caribbean.
SkyTeam as a whole comes in around 150 TATL routes, similar to oneworld and trailing Star Alliance by around 50 options. But plenty of routes served only by the alliance, which makes sense given the histories involved from the countries.
Here's the full list in table format:
| | | |
| --- | --- | --- |
| CDG | ATL | AF |
| CDG | BOG | AF |
| CDG | BOS | AF |
| CDG | BSB | AF |
| CDG | CCS | AF |
| CDG | DTW | AF |
| CDG | EZE | AF |
| CDG | GIG | AF |
| CDG | GRU | AF |
| CDG | HAV | AF |
| CDG | IAD | AF |
| CDG | IAH | AF |
| CDG | JFK | AF |
| CDG | LAX | AF |
| CDG | LIM | AF |
| CDG | MEX | AF |
| CDG | MIA | AF |
| CDG | MSP | AF |
| CDG | MVD | AF |
| CDG | ORD | AF |
| CDG | PTY | AF |
| CDG | PUJ | AF |
| CDG | SCL | AF |
| CDG | SDQ | AF |
| CDG | SFO | AF |
| CDG | YUL | AF |
| CDG | YYZ | AF |
| CDG | YVR | AF |
| ORY | CAY | AF |
| ORY | FDF | AF |
| ORY | PTP | AF |
| MEX | CDG | AM |
| MEX | LHR | AM |
| MEX | MAD | AM |
| EZE | FCO | AR |
| EZE | MAD | AR |
| FCO | BOS | AZ |
| FCO | EZE | AZ |
| FCO | GIG | AZ |
| FCO | GRU | AZ |
| FCO | JFK | AZ |
| FCO | LAX | AZ |
| FCO | MIA | AZ |
| FCO | ORD | AZ |
| FCO | YYZ | AZ |
| MXP | JFK | AZ |
| ATL | AMS | DL |
| ATL | BCN | DL |
| ATL | BRU | DL |
| ATL | DUB | DL |
| ATL | DUS | DL |
| ATL | FCO | DL |
| ATL | FRA | DL |
| ATL | LHR | DL |
| ATL | MAD | DL |
| ATL | MUC | DL |
| ATL | MXP | DL |
| ATL | CDG | DL |
| ATL | STR | DL |
| ATL | VCE | DL |
| ATL | ZRH | DL |
| CVG | CDG | DL |
| DTW | AMS | DL |
| DTW | CDG | DL |
| DTW | FCO | DL |
| DTW | FRA | DL |
| DTW | LHR | DL |
| EWR | AMS | DL |
| EWR | CDG | DL |
| JFK | AGP | DL |
| JFK | AMS | DL |
| JFK | ARN | DL |
| JFK | ATH | DL |
| JFK | BCN | DL |
| JFK | BRU | DL |
| JFK | CDG | DL |
| JFK | CPH | DL |
| JFK | DUB | DL |
| JFK | FCO | DL |
| JFK | FRA | DL |
| JFK | IST | DL |
| JFK | KEF | DL |
| JFK | LHR | DL |
| JFK | MAD | DL |
| JFK | MAN | DL |
| JFK | MXP | DL |
| JFK | NCE | DL |
| JFK | PRG | DL |
| JFK | PSA | DL |
| JFK | SNN | DL |
| JFK | SVO | DL |
| JFK | TLV | DL |
| JFK | VCE | DL |
| JFK | ZRH | DL |
| MSP | AMS | DL |
| MSP | CDG | DL |
| MSP | LHR | DL |
| PDX | AMS | DL |
| PIT | CDG | DL |
| SEA | AMS | DL |
| SEA | CDG | DL |
| SEA | LHR | DL |
| SLC | AMS | DL |
| SLC | CDG | DL |
| PHL | CDG | DL |
| PHL | LHR | DL |
| BOS | LHR | DL |
| BOS | CDG | DL |
| BOS | AMS | DL |
| AMS | ATL | KL |
| AMS | AUA | KL |
| AMS | BON | KL |
| AMS | CUR | KL |
| AMS | EZE | KL |
| AMS | GIG | KL |
| AMS | GRU | KL |
| AMS | GYE | KL |
| AMS | HAV | KL |
| AMS | IAD | KL |
| AMS | IAH | KL |
| AMS | JFK | KL |
| AMS | LAX | KL |
| AMS | LIM | KL |
| AMS | MEX | KL |
| AMS | ORD | KL |
| AMS | PBM | KL |
| AMS | PTY | KL |
| AMS | SCL | KL |
| AMS | SFO | KL |
| AMS | SXM | KL |
| AMS | UIO | KL |
| AMS | YUL | KL |
| AMS | YVR | KL |
| AMS | YYC | KL |
| AMS | YYZ | KL |
| SVO | IAD | SU |
| SVO | JFK | SU |
| SVO | LAX | SU |
| SVO | MIA | SU |
| MAD | CCS | UX |
| MAD | CUN | UX |
| MAD | EZE | UX |
| MAD | GRU | UX |
| MAD | HAV | UX |
| MAD | JFK | UX |
| MAD | LIM | UX |
| MAD | MIA | UX |
| MAD | MVD | UX |
| MAD | PUJ | UX |
| MAD | SDQ | UX |
| MAD | SJU | UX |
| MAD | VVI | UX |
| MAD | SSA | UX |
| MAD | EZE | UX |
| MAD | GRU | UX |