Last summer saw a battle pick up between United and Delta (with American and JetBlue on the sidelines) in the New York City – Raleigh-Durham market. United added 3x daily service from LaGuardia while Delta announced multiple daily frequencies from Newark. A year later United will throw in the towel, dropping its thrice-daily flights and shifting the slots to increase service from its hubs at O'Hare and Dulles. The last United flights on this route will operate on 7 June 2017.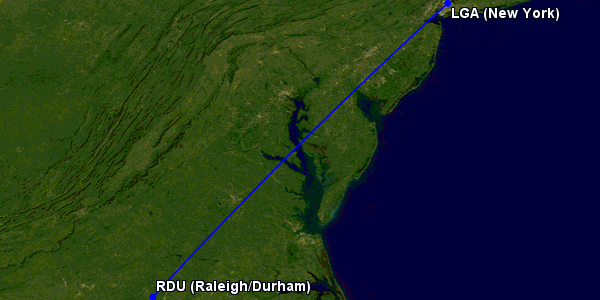 In many ways the real story here is that the service lasted as long as it did. The RDU-NYC market is a decent size but the flight operated against significant competition, including 13x daily into LaGuardia plus Newark and JFK service from multiple airlines. Advance purchase fares remained relatively low and United had no traffic feed at either end. It could compete on price but not really on most other factors (fewer frequencies, comparable service levels, etc.). That's a recipe for unfortunate results.
I'm also slightly surprised to see Dulles-LaGuardia see an increase in service as a result of the Raleigh cuts. Maybe it is just because they're cheap place-holders for the slots and easy to cancel if someone sneezes near New York City and LaGuardia goes into a delay program or maybe to feed a small handful of connecting destinations not easily served from Newark. But that's what to expect this summer.