As the pressure from long-haul LCCs grows across the Atlantic legacy carriers are shuffling and expanding service to compete. Two rumors this week have new service coming from British Airways and Delta Air Lines and neither is a particularly obvious choice.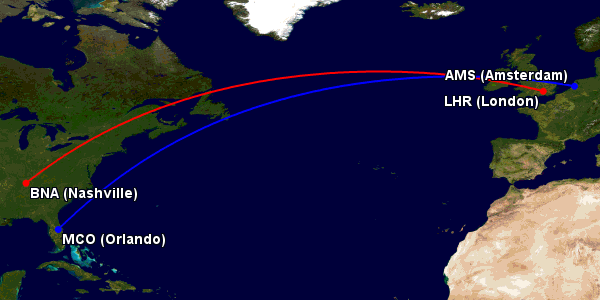 For British Airways the rumor is that Nashville, Tennessee (BNA) is next up for service. The airport hasn't had transatlantic service since the mid-90s when American dropped its hub operations there. A return with flights operated by British Airways – presumably an 787-8 with business, premium economy and economy cabins – would also carry the AA code given the joint venture the two participate in for transatlantic traffic. American still operates a reasonably sized operation at BNA, including an Admirals Club, but I would not expect much in the way of traffic feed to the BA service from AA flights. Nashville does have a decent amount of international business in the metro area, including Nissan and Bridgestone-Firestone. It also supports a decent tourism draw, though I'm not sure how much of that extends to European inbound traffic.
The Tennessean suggests that route subsidies are part of the effort to open the route. It also notes that the new route ties in nicely with previously announced plans for a significant expansion of the airport, including construction of new international arrivals facilities.
---
---
On Delta's radar is further growth at Orlando International Airport (MCO). The carrier is supposedly adding service to Amsterdam Schiphol (AMS) in Spring 2018 with the announcement due as early as this weekend's schedule load. Orlando is no stranger to transatlantic service, with multiple daily flights to London, Manchester, Frankfurt and other European destinations. Still, the SkyTeam triumvirate of Delta, Air France and KLM have not successfully operated from Orlando to the European hubs for an extended period of time and haven't tried much in recent years.
In this case the hub at Schiphol brings plenty of feed opportunities, just like BA's at London. And, while it would be nice to explain the shift of the 767 to Orlando as the reason Air France is keeping the Chicago-Paris this winter the route launch times don't quite line up to make that work. Orlando is often seen as a low-yield market, with package deals and price-sensitive tourists making up much of the traffic. But it also does a sizable convention business, including many with international attendees.
---
---
Thin routes with strong feed at one end are going to be a major factor in the ability of the legacy airlines to fend of LCC competition. Typically it is possible to extract a (small) premium for such service and for an airport like Nashville that hasn't had much in the way of long-haul service recently the combination of corporate and leisure traffic just might be enough to support the operation.
Header image: Landing at Nashville in a 737; could a larger British Airways plane soon be calling??