JetBlue's hub in Long Beach, California has long been a challenging operation. With limited slots come limited destinations and frequencies, hampering the ability to offer great service for business travelers. The carrier pushed for construction of Customs & Immigration facilities last year but that was voted down by the city council, mostly based on the irrational fear of larger and louder planes suddenly showing up; NIMBYism at its finest. So what's an airline to do?
It seems JetBlue is looking to get creative with its slot portfolio (the carrier holds rights to a supermajority of the ~75 daily flights at the airport). In a recent internal company newsletter the carrier indicated that some atypical routes may be on the horizon.
We will probably see some frequency changes in our short haul flying to accommodate new, "unusual" markets that aren't typical to our business plan (e.g., Santa Rosa, Calif., Steamboat, CO, Montana, etc.).
---
---
Those are most definitely not business travel destinations, but that decision seems pretty much set at this point. After all, the business routes aren't working that great either. And choosing the leisure routes that are higher yielding just might be what it takes to realize the long term goal of "sustainable and profitable" operations for the airport.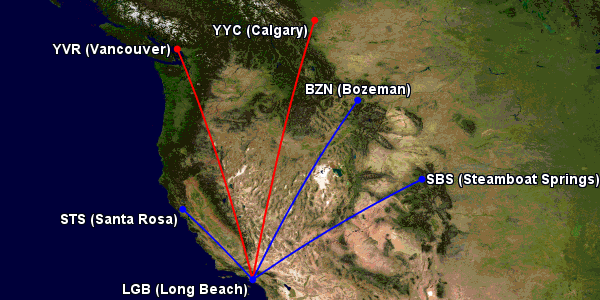 With Mexico off the table due to no FIS facility there were some rumblings around Canadian service being added, taking advantage of pre-clearance facilities north of the border. Those are not specifically mentioned in the memo but Vancouver and Calgary have been hinted at in the past. They are longer flights and face greater competition from Air Canada and WestJet (assuming LAX is included in the market) but seasonal service to take advantage of leisure demand could work.
---
---
The company also indicated that adding a daytime transcon service from Burbank is "high on the list" of desired routes, taking advantage of the carrier's strength in the transcon market.