There are lots of ways to look at air traffic data. Sometimes it is pretty videos showing flight patterns. Or trends over time. Or airline route maps. But a recent thread on FlyerTalk got me thinking about "perfect" connections. In this context I'm thinking of perfect as a city pair where the distance between the airports can be matched by a pair of connecting flights, still starting and finishing in the same place but with a stop along the way and no extra miles flown.
South African Airways used to fly between Johannesburg and JFK Airport in New York City via Dakar, for example. In that case JFK to Jo'burg is only 3 miles shorter than the nonstop. Close, but not quite perfect. St. Louis to Toronto via Detroit is the same distance as the nonstop.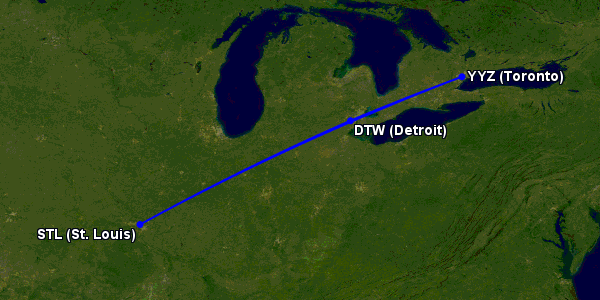 ---
---
So that's one "perfect" route, but how many others are there? Way more than I expected.
For a different project a while back I collected data on routes flown. I ended up with roughly 22,000 city pairs. That's not the full world of flight paths, but it is enough to start playing with the details and get some interesting results.
Setting the threshold at <25 miles deviation for the connection point I came back with 6,816 routes that fit that pattern; nearly 800 are truly perfect with a zero mile deviation.
Not all are unique. There are many cases where a city pair can have multiple en route connection points that are "perfect" or darn close. Stockholm to Palma de Mallorca has one perfect connection point – Frankfurt – and three other options (Zurich, Geneva, Copenhagen) within 5 miles of perfect.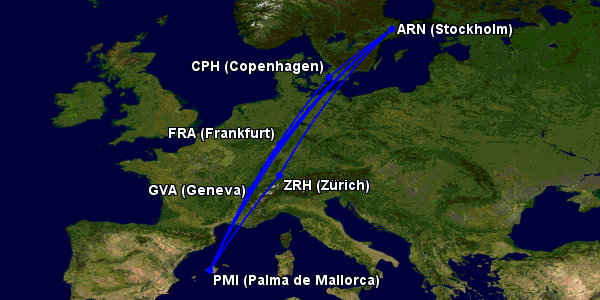 Between Atlanta and Istanbul there are seven connection points (BOS, BRU, DUB, DUS, IAD, FRA, JFK) that are within 2 miles of perfect.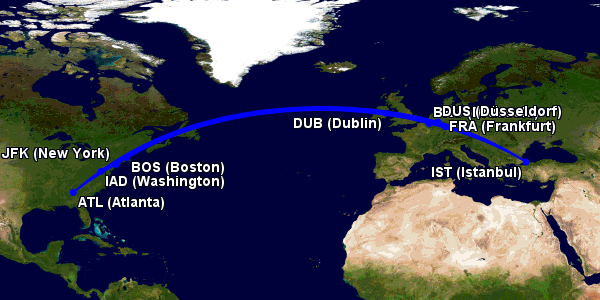 ---
---
Perfectly perfect??
Taking the idea of perfection another step further I started to look at options where the connection point was exactly half way between the other two cities. Surely that would be perfectly perfect, right? Alas, it was not to be, though there are a couple options that are pretty darn close. Half way between Dulles (IAD) and Houston (IAH) sits Huntsville, Alabama (HSV). Well, almost half way. The Dulles segment comes in at miles 596 compared to 594 for the Houston segment. Ottawa (YOW) is 3 miles closer to Quebec City (YQB) than to Toronto Pearson (YYZ).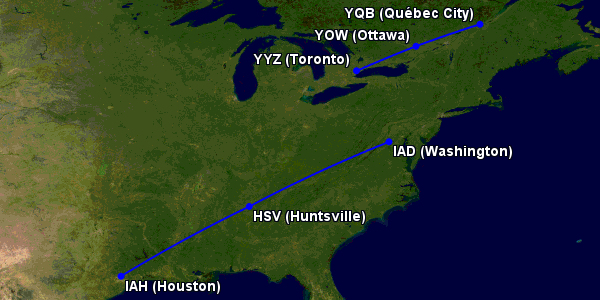 In Europe there are a couple similar routes, also within a mile or two of perfectly perfect.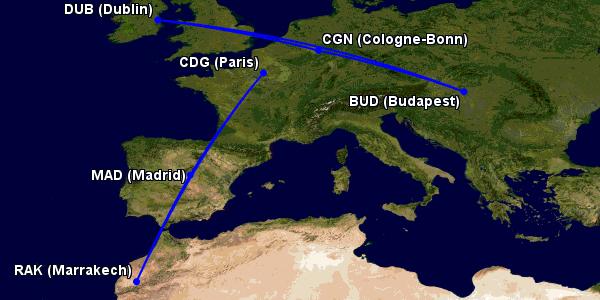 One of the longest perfect routes I can find is Doha (DOH) to Miami (MIA) with a pair of connections that don't materially add to the total miles flown. Milan and Paris sit right along that flight path.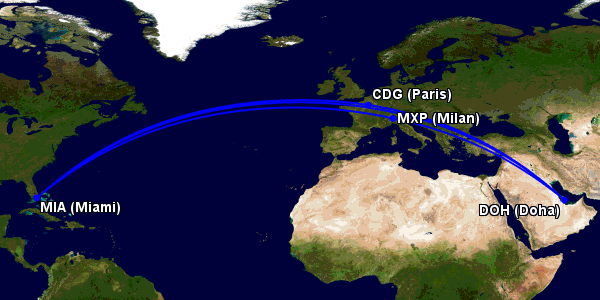 Of course, there's the part where even a perfectly situated connection still means at least two extra hours of travel time with the slower speeds at lower altitudes and the connection window. That's part of why the ultra long-haul routes can still attract lots of passengers. But sussing these out of the data set sure was fun for a Sunday morning.
Oh, and about the pretty video thing I mentioned in the lede:
For those who want to see more details, here's the data I was working with. Yes, I know some of it is bad. My source isn't perfect and I don't have the code to repair it readily available right now. But it is mostly accurate and I double-checked the stuff I reported above.