Planning travel is often a battle between the familiar and the new. The coming months for me are a great example of such, with a mix of the familiar and the very, very unfamiliar ahead.
Another work trip to London is on the horizon. Staying in the same neighborhood, likely eating at the same restaurants (assuming they're still open) and still no clarity on the Brexit front. That follows with Los Angeles where the venue and airlines are familiar but not the neighborhood. And then there's a couple trips coming up this Fall/Winter.
Not surprisingly I have a favorite place where I like to return regularly. A few of them, actually. But sometimes the ability to get more creative strikes. This weekend I finally put some plans together to stretch that creativity and expand my horizons.
And my list of flown airlines, too!
---
---
To Hanoi and beyond
Some 18 months ago I was supposed to spend a long weekend in Hanoi after working in Bangkok for a week. Things changed and we ended up mostly in Chiang Mai – not a bad substitute at all – but still got an 8 hour taste of Hanoi. I was very,very impressed. Given the opportunity to return this year (part of the NYE Cathay F mistake fare) I ended up booking to spend a few more days than initially expected. So what else to see in the area??
Travel hive mind: Where should I visit in Vietnam in late September? Was thinking a couple days of beach time in Danang/Hoi An, but open to suggestions of other things to see.

I spent a week in HCMC 13 years ago and will get a couple days in Hanoi also on this trip.

— Seth Miller (@WandrMe) August 6, 2019
I asked the online world where I should go and what else I should see. The general feedback focused on Hue and SaPa. Thanks to a variety of factors, including wanting to fly some of the Vietnamese LCCs, SaPa slipped away on this trip. But Da Nang and Hue are very much part of the plan.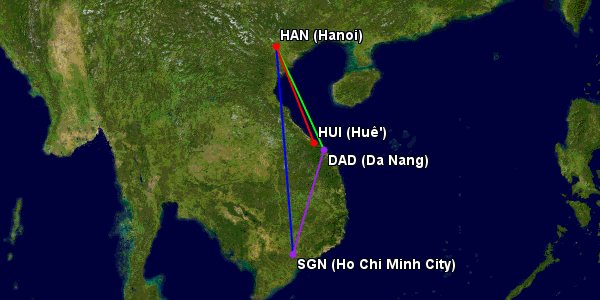 The LCC flights should be interesting. Travel is booked on VietJet, Bamboo Airways, JetStar Pacific and Vietnam Airlines, just to round out the collection. I paid for seat assignments because I want to make suure I get a window. But I also took seats in the back of the plane to get a more realistic LCC comparison. Hopefully my knees survive.
Yes, it means taking a few more flights that is strictly necessary during the trip. And maybe I'm using the flying to justify skipping a visit to Hoi An, mostly to avoid what I expect will be horrible disappointment with what the once wonderful city has devolved into thanks to a UNESCO World Heritage Site designation and lack of respect for that role by the local government.
We even managed to work a train ride in from Da Nang to Hue, to round out the local travel experience. Overnight buses, however, are not happening this trip.
Got any favorite dining options in Hue, Da Nang or Hanoi? Leave a note in the comments and help me fill in the rest of the itinerary.
---
---
Nepal, Bhutan and India
Booking a handful of random flights in Vietnam was fun, but the real excitement this weekend came as we finally started building out an itinerary for a long winter break in South Asia. I have some work in Singapore and the return half of that Cathay F fare to get me (almost) there, and I was able to find a cheap partner SkyMiles business class award for my wife. And then we really didn't do much about it for a few months. This weekend, however, the planning intensified.
We're starting in Nepal, with a trek through Annapurna and then heading to Bhutan for a few days in the happiest country on earth. From there we hop to Darjeeling, for another week of hiking in the mountains around Singalila. The airlines involved in this part of the trip planning are far more exotic. Booking segments on Yeti Air, Bhutan Airways and Druk Air were enough to finally confuse my credit card company as to what was really going on.
And figuring out how to get an account on the India National Rail online ticketing system as a foreigner was only slightly baffling (you have to pay 100 rupees to get a confirmation SMS to validate the account but also must have an account to be able to pay it, quite a conundrum).
But we've also got a few UNESCO World Heritage Sites flagged to see on the trip, from the Toy Train in Darjeeling and maybe in Shimla to Rani-ki-Vav in Gujarat. And, of course, the grand train station in Mumbai at the end of the trip. Connecting those cities together, however, is a 5ish week adventure that barely has an outline, much less an itinerary. Some trains and a few planes mixed in to see if I can't fly on all the LCCs still in business; the two I've previously flown with are both shuttered now.
We've visited Agra, Kochi, Chennai and Delhi already and are mostly planning to not repeat those. And this trip will involve some breaks from tourism to work along the way, and maybe some planespotting, too. So, again, we're looking for suggestions of things to do across the region, preferably somewhat less common destinations.