With 2019 rapidly closing out it is time to review my travel for the year, finding the highlights and a few of the lowlights, too.
The basic numbers
For total flights and distance 2019 was a little lighter than usual, with 79 segments carrying me a total of 138,225 miles. But I also spent way more nights not at home than in prior years. I slept away from New Hampshire 167 times. A lot of that is attributed to the big South Asia adventure we took at the end of the year, but other trips helped boost the numbers, too.
Also different from prior years is just how much of the time I spent flying in economy class. More than 80% of my flights and more than 60% of the total miles I traveled were in the back of the plane. I also had a couple spectacular long-haul premium cabin flights, including trying Cathay Pacific's first class a couple times. But this year was very much about just getting where I needed to be and on an economy class budget.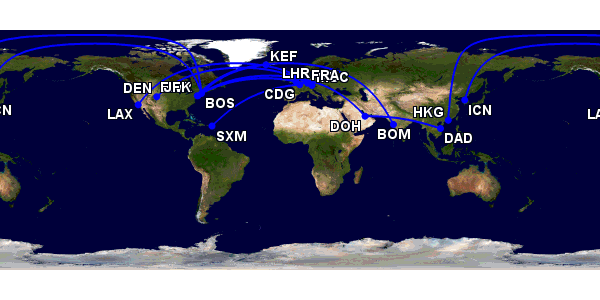 ---
---
Fun and new things
Not included in the numbers above are a trio of flights I was fortunate to take from St. Maarten over the summer as part of the CaribAvia conference. That included an international flight between two airports on the same island (SFG-SXM).
Here's the full flight video from my @flytropic hop between the two airports on the island of Saint Martin (#SFG–#SXM). Great fun for 15 minutes! #AvGeek #Transportals #PaxEx pic.twitter.com/gZeXuQDRJI

— Seth Miller (@WandrMe) June 13, 2019
I also got to fly over to Antigua for 15 minutes to help pick up one of the speakers for the conference and interview him on board the flight back to St Maarten. That was a lot of fun, including my first ride(s) ever on a Mitsubishi MU-2.
Some quick island hopping this morning, from @sxmtweets over to Antigua to pick someone up for the #Caribavia conference. #avgeek #bizav pic.twitter.com/eRsXez7Vh2

— Seth Miller (@WandrMe) June 11, 2019
I visited Bhutan, Bosnia, Croatia and Nepal for the first time, adding to my country count. Still plenty left to explore, but I'm enjoying each time I get to a new one.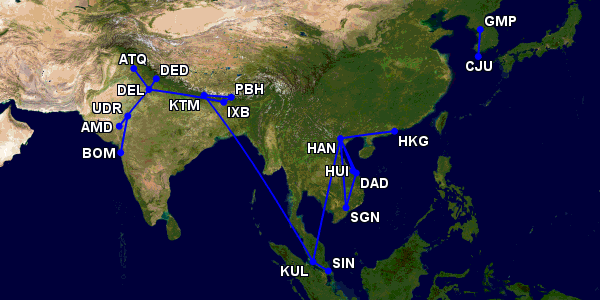 I flew through 11 new to me airports, including being at Paine Field north of Seattle on the first flight out. I flew the busiest domestic route on the planet, between Gimpo and Jeju in Korea and I still have no idea what all those people are doing going back and forth.
I also managed to keep my ratio of new routes to previously flown above 50%, though it is a tough stat to maintain. Every year I think that streak will die and something comes along (like a random trip to Vietnam to try all the LCCs) to keep it alive.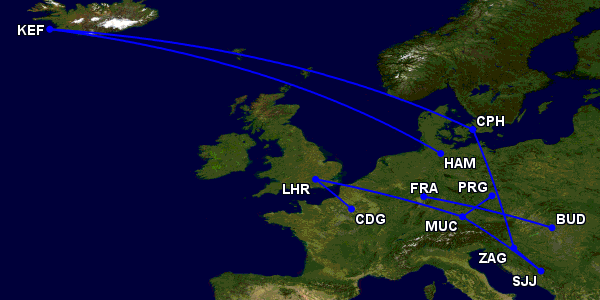 New airlines were also a big part of the adventure for me in 2019. Picking up a pair in Korea, three in Vietnam and another handful in South Asia helped round out that effort in the back half of the year.
---
---
Some less fun things
I also flew on two airlines in 2019 that no longer exist as of the end of the year. My one trip on WOW was fine, I suppose, but the business model fell apart pretty badly when subjected to even a casual scrutiny. I also got to fly on a Joon long-haul trip just before the brand disappeared, reverting to the Air France operation.
Beyond the numbers
The numbers are easy to list and process, but barely scratch the surface in telling the stories. I got to see a rocket launch up close (an another one from a hundred miles away, up the beach). I made new friends in the industry and beyond. I even met a queen's father for lunch one day.
I also had my share of flights (and trains) canceled and even a train derail while we were on board. Fortunately it wasn't moving very quickly and no one was injured, but it definitely happened.
And then the train derailed. Seriously. This #TransitAdventure just got a lot more adventurous. #wandrIN pic.twitter.com/RZAoPHJUAF

— Seth Miller (@WandrMe) December 3, 2019
Looking to the future
Looking back can be interesting but looking forward is always more fun to me. On the travel front I generally expect more of the same. My conference schedule doesn't appear to be changing too much right now so I'll keep going to the same places, but trying to figure out new and more creative ways to get there. And going to new places, too.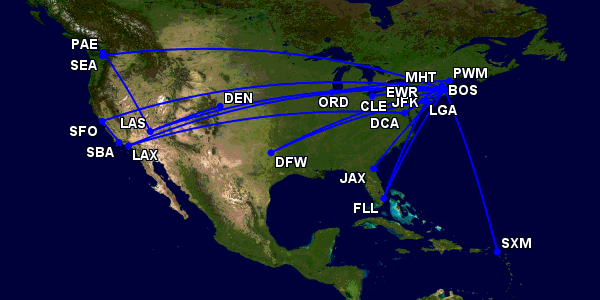 One of those already booked involves a flight from London City to Antwerp, finally picking up a trip that I've been angling for the past few years and one that I don't expect will operate forever. And a hanging monorail ride in Germany. And lots of other fun things along the way.
I hope you'll continue to join me on these adventures in 2020 and beyond.