Delta has launched a fall award sale targeting their expanding Latin American route network. The carrier has selected 23 routes from their LatAm gateways at Atlanta, New York-JFK and Los Angeles with the promotion, generally cutting 5-10,000 points off the regular rates for those awards. Also of note in this award sale is that Delta is not only placing the lowest award levels on sale; their "standard" or mid-level awards are also included in the deal; the "peak" award level is not discounted. The tickets must be booked by 7 August and travel must occur from 2 September to 11 December 2014. There are also a number of blackout dates depending on the route.
With the limited number of routes the value of the promotion is somewhat reduced, though my spot-checking of flights/dates suggests there are a decent number of seats available for this promo. That's a nice change of pace for SkyMiles.
Here are all the routes included in the sale, split up by gateway city.
ex-Atlanta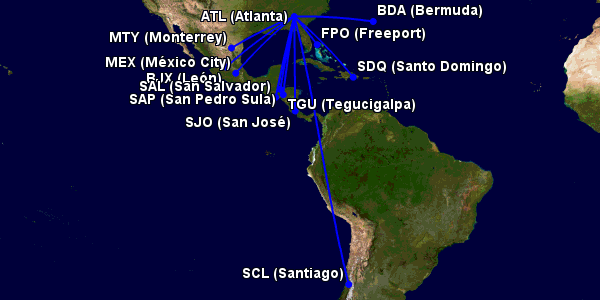 Atlanta, Georgia (ATL) to
Bermuda (BDA)
Freeport, Bahamas (FPO)
Leon, Mexico (BJX)
Mexico City, Mexico (MEX)
Monterrey, Mexico (MTY)
San Jose, Costa Rica (SJO)
San Pedro Sula, Honduras (SAP)
San Salvador, El Salvador (SAL)
Santiago, Chile (SCL)
Santo Domingo, Dominican Republic (SDQ)
Tegucigalpa, Honduras (TGU)
ex-New York City/JFK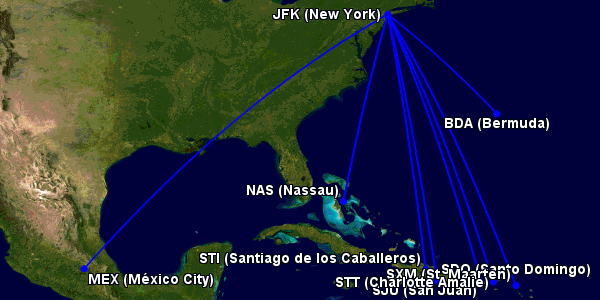 New York – Kennedy, NY (JFK) to
Bermuda (BDA)
Mexico City, Mexico (MEX)
Nassau, Bahamas (NAS)
San Juan, Puerto Rico (SJU)
Santiago, Dominican Republic (STI)
Santo Domingo, Dominican Republic (SDQ)
St. Maarten, Netherland Antilles (SXM)
St. Thomas, Virgin Islands (STT)
ex-Los Angeles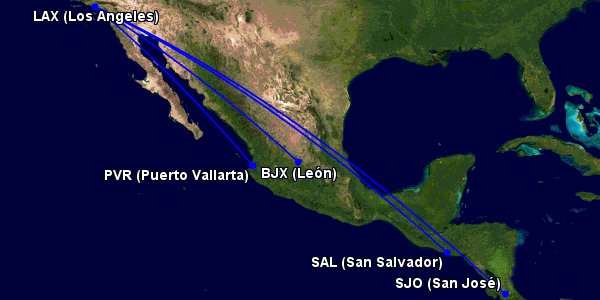 Los Angeles, CA (LAX) to
Leon, Mexico (BJX)
Puerta Vallarta, Mexico (PVR)
San Jose, Costa Rica (SJO)
San Salvador, El Salvador (SAL)