Airlines have made it relatively clear in recent years that elite status and other benefits will generally be focused on the customers who fly that particular airline on higher fares than average. Air Canada announced new qualification rules this week for its Altitude elite program and the situation is not pretty for passengers who make a habit of flying on partner carriers. Many airlines require some number of segments to be flown on "home" metal to qualify; that number is typically four. Air Canada Altitude qualification for 2016 will require a full 50% of Altitude Qualifying Miles (AQMs) or segments to be flown on Air Canada, Air Canada Express or Air Canada rouge. And this 50% rule is based on AQMs which often do not credit at 100% for less expensive tickets.
Qualification is harder
Altitude Elite just became a rather more challenging status to acquire or maintain for travelers who like the fact that global alliances offer choices. Now some of those passengers will be forced to make a choice between acquiring elite status or flying on the more convenient, more comfortable or better priced flights. Ouch.
Earning is harder
That's not the only place where Air Canada is making cuts. Passengers on shorter flights will no longer earn a minimum of 500 miles for each trip. That will really sting for travelers who spend a lot of time flying between Toronto or Montreal and the US business hubs of NYC, Washington, Boston, Chicago and more. Of course, there's no real reason passengers should earn more miles for those flights, though they are generally very high-yield on a per-mile basis so maybe there is a reason earning should be higher.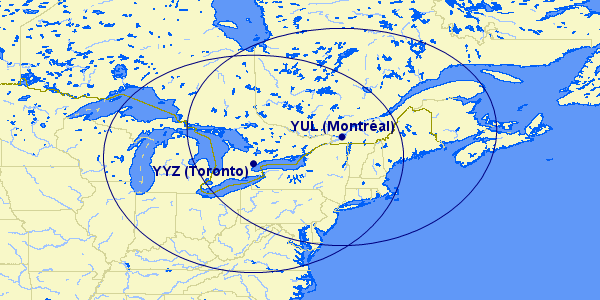 Upgrades are harder to earn AND less valuable
Upgrades will be harder to earn and most redemptions for such will require more eUpgrade credits. That's a double-whammy which is sure to sting. Not only does accrual of the eUpgrade credits now start at 60,000 AQMs rather than at 20,000 but the tier thresholds will earn fewer as well. Oh, and the number required to redeem for various trips is increasing.
Award booking changes are mostly bad
On the award ticket front news is slightly mixed. The positive part is that Altitude Elite members will not pay fuel surcharges on redemptions made for travel on Air Canada flights within Canada or between Canada and the United States. Travel to other international destinations will see the fees waived for Super Elite 100K members. And all members will be able to redeem for Premium Economy seats on Air Canada flights at some point in the relatively near future. The bad news for Super Elite 100K members might out-weigh the fuel surcharge fee waiver. The waiver of change fees for award bookings is going away as of 1 March 2015:
Aeroplan® Flight Reward change fee waivers for Super Elite 100K members will be no longer be available for changes made on or after March 1, 2015.
Also, the extra award space for Super Elite 100K users will be limited to only 10 reservations per year.
Lounge access cut for mid-tier elites
Historically the 35K tier for Air Canada Altitude has permitted access to Air Canada Maple Leaf Lounges and also Star Alliance partner lounges. That benefit is being pared back to only allow access for the Maple Leaf Lounges; members will still be able to buy up to access other lounges at a 50% discount but that is still another cut to add on the list.
Priority boarding
But, hey, priority boarding is getting better. Because that's really what drives loyalty.
In early 2015, a new streamlined boarding process will be introduced to ensure that Altitude members get even more out of their Priority Boarding privilege.
There really isn't much left to recommend the Altitude program as an attractive option for travelers in Canada. These cuts don't completely destroy the program, just like the last round of cuts also did not destroy the program. But the overall net effect of the repeated cuts is very real: The value is disappearing in a hurry.
Related Posts: