For the past 10 years I've taken the MLK Jr. weekend as a holiday in Europe with friends. We pick a random destination, a local spot for dinner and beer and then figure out the rest of the ridiculous logistics like flights and hotels and more beer and hope for the best. The 2018 edition brought a certain set of challenges but also highlighted one of the European planning "problems" I seem to suffer from so much: I was in the neighborhood.
Europe is relatively small physically compared to the United States. It also has (generally) spectacular rail and road infrastructure to go with the plethora of flight options between various smaller cities. To me that translates to a policy of "just get to the Continent cheap enough and then figure out the last hop once there. For a few years now I've been buying tickets originating in Europe to save money (thousands of dollars at this point, even with the extra positioning bits). I find a cheap gateway city (last year it was Premium Economy fares from Berlin) and book the trips I need, adding on connecting flights as the specifics come along.
In this case I had a return half of a cheap Zurich trip (booked as Premium Economy, upgraded to biz using Avios) to start the weekend and a departure from Munich on Monday morning to close the trip. In between, well, we'd do our best to find a decent beer and some stupid adventures along the way.
---
---
At one point someone mentioned Sofia, Bulgaria as an option. Getting there from Zurich wasn't too hard and WizzAir had a flight from Sofia to Memmingen ("Munich West") available at a decent rate. Collecting new dots and lines is part of the fun so I started to build around those connections. And why not take a quick side trip into Liechtenstein? After all, I was in the neighborhood.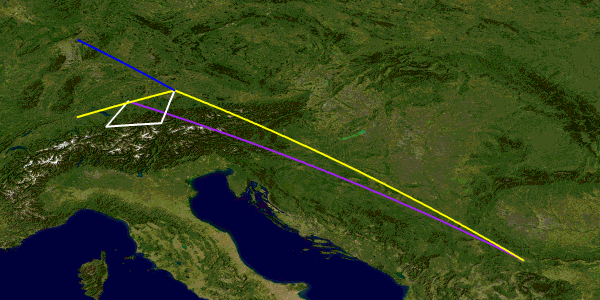 Eventually my itinerary was set. I'd fly in to Zurich and immediately connect onward to Sofia. One night there before continuing to Memmingen and an overnight in Austria. A morning in Vaduz would be followed by a drive to Munich on Sunday where I'd spend the night before leaving on Monday morning. Four nights in Europe (including the overnight from NYC to start) and four plane tickets plus a rental car to make it happen. A different hotel every night. And I had none of the lodging booked before boarding the plane at JFK. It certainly is not for everyone. Heck, it isn't even really always for me. But I do love that travel style every now and then.
---
---
Given my druthers I would've added an extra day or two on the trip for a better pacing of the visits. It wasn't necessarily rushed but also minimal time to slow down and explore. Alas, this was where the cheap seats were. Even with a few screw-ups along the way it was completely worth it.
More from this trip: