For more than a decade now I've been wanting to spend an extended period on the road. Our honeymoon was a 3.5 week RTW journey but I've always wondered what it would be to do more. Lots more. Scheduling and work and life and other things got in the way. But after our move out of New York City last year I made a point of trying again. And it appears to have worked. We're now in the midst of a 60-day journey that will take us across a chunk of South Asia.
Piecing it together
Planning a trip this long was a challenge, to say the least. And I was nowhere near having it all figured out when I left town in early November. We laid out most of the major milestones but things like where we'll stay along the way are still up in the air for the back half of the trip. And even some of the earlier stays too. Why? Because being too rigid in the planning isn't as much fun to me. Also, because I'm not too worried about finding somewhere to sleep.
The process also involved some tools I haven't used for a long time: pencil and paper. Digital is great once the details are nailed down, but a paper calendar and post-it notes for where we'd be on different days really helped to slide things around and make sure we didn't miss anything along the way. When I wanted to add a new city to the itinerary it was easy to move the stickers over and insert new ones. And when one of our tour operators called and asked us to move our dates by a week it was relatively easy to see how that could fit into the newly adjusted plan.
I have a bad habit of thinking the I'm "in the neighborhood" so stretching the trip or adding an extra destination isn't a big deal. I did that at least twice on this one, including adding a new country because it seemed a good idea.
---
---
Lining up flights was mostly handled via SkyScanner, then booked directly with the airlines. Making sure I get to fly on different carriers was a little challenging, but in the end enough different options presented themselves that I only really went out of my way on one of the trips. Hotels are a mix of local shops and chains. And we used tour operators for parts of it where there aren't good DIY choices (or where it is impossible). Toss in an overnight trains and a few reward segments into and out of the region and it all came together pretty nicely.
And I only managed to get my card shut down by a fraud alert once, despite booking half a dozen new (to me) airlines so far.
Where we're going
We're starting in Singapore since I had to be there for work. I used the back half of a Hanoi-originating Cathay Pacific fare to get there, combined with AirAsia via Kuala Lumpur so I could drop in and visit the RedQ offices. My wife flew in on Korean using SkyMiles for a business class seat.
From there it is up to Kathmandu and two weeks in Nepal. The bulk of that is trekking in the Annapurna Loop (including letting them handle hotel bookings) though we have a few extra days in the country at the end.
From there it is on to Bhutan where a local guide is mandatory.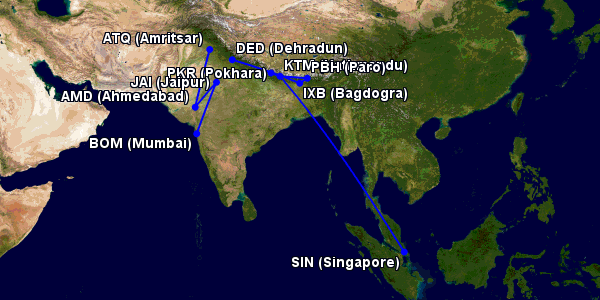 Darjeeling follows, including a ride on the toy train and another trekking loop through the Himalayan foothills before we head further west in India. Mussoorie, Amritsar, Jaipur, Ahmedabad and Mumbai are all on the list, too. And maybe we'll get distracted and add another city or three into the mix, though we're also trying not to move too often. One of the goals of this trip is to slow down and get more comfortable in the town rather than playing the "hit-and-run tourism" game.
Finally, we're returning to the USA on an award via Abu Dhabi and our first time in the A380 Apartments from Etihad.
---
---
Follow along
I'm hoping to share many of the adventures here as they happen, though less about the hotel rooms and flights (unless it is something extra special) and more about the experiences on the ground. More travelogue and less review. Both because I find those more interesting to write and because I think they're better for sharing what the trip is really about. Sure, a couple hours on a plane is exciting, but we're spending far more time in the cities and exploring. The posts should fill in below as they happen. I'll try to keep them mostly in order but I know that isn't really feasible. Such is life.
You can also follow along with some of Linnea's thoughts as she also documents our trip. Definitely a different style of sharing there.
It also means that the posting frequency might be less frequent and less consistent. I'm still working. A little. But this is mostly vacation time and there are some days where we'll simply be off the grid. Thank goodness for scheduled posts. And for being able to disconnect and relax.
Finally, for those of you more interested in the stories I write about the business of aviation, I'm doing way more of that at PaxEx.Aero now, including during this trip. Though, again, not quite as often. Still, I'll have less stuff cross-posted owing to the fact that I'm trying to not work so much on vacation.
Tales from our South Asia Adventures